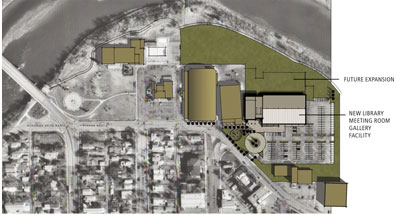 The Town of Drumheller is pleased to confirm that EnCana has pledged its support for the Badlands Community Facility.
    EnCana has announced that it will give $500,000.00 to this community project.
     "We value the importance of working with the residents, and organizations of the communities we work and live in,"     Luigi Vescarelli, Drumheller community relations advisor for EnCana said. "EnCana is committed to listening and responding to the needs of our neighbors and collectively everyone does what it takes to make Drumheller an excellent place to live. We believe this new centre will become an important cornerstone for the community which will add to the vibrancy that Drumheller enjoys today."
    Drumheller Mayor Bryce Nimmo commended EnCana regarding the work they do in the community, and this recent contribution to this facility.
    "Drumheller is privileged to have many outstanding community minded companies in our Town and as always EnCana shows true community leadership in business and community ventures. On behalf of Town Council and the residents of Drumheller we express our thanks," said Nimmo.
    Badlands Community Facility co-chair Tony Lacher is very happy with the involvement of EnCana in the Badlands Community Facility.
    "Our committee started out as a grassroots organization of eager citizens. We have seen this project grow from a few people to a community wide initiative. It is truly gratifying when a company such as EnCana supports our project at such a high level," said Lacher.
    The construction of the Badlands Community Facility is progressing on schedule. The architect firm of Graham Edmunds Cartier is currently working on the design and the preliminary site work will begin in late 2009.
    The construction will start with a field house, running track, fitness centre, meeting facilities and a new public library followed by an arena and curling rink as funding becomes available.