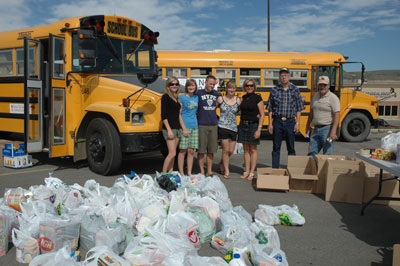 Drumheller not only stuffed one bus, but two, providing the Salvation Army Food Bank with a enough supplies to last into winter.

On Tuesday, August 25, the food bank invited the residents of Drumheller to come out, and come out they did, and help fill a school bus with non-perishable food, to "Stuff That Bus!"
    "Drumheller is just amazing, the people here never disappoint," said organizer Heather Colberg, who was shocked at how successful the event was despite word being spread only last week.
    "You know, some people wonder why we live in Drumheller," said Jason Blanke of the Chinook Credit Union as employees were dropping off a dozen bags, "and this is exactly the reason why. It is just incredible."
    Last week, the Foodbank invited all residents of Drumheller to wear jeans to work on Tuesday, if they would drop off a bag of items at the Alberta Treasury Branch parking lot all day long.
    By the time they called it quits on Tuesday afternoon, two busses as well as two pick-up trucks  were full of essential food items.   
    It was not only employees who dropped off goodies, said Colberg, it was people from all walks of life, leaving items to help stock the dwindled food supplies at the bank.