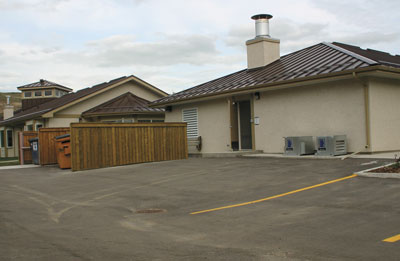 The board of the Drumheller and District Seniors Foundation has filed an appeal to a Town of Drumheller order to take action to reduce the noise of its kitchen and HVAC systems.
The Town of Drumheller ordered that because "the chiller and condensing units on the property unduly interfere with the amenities of the neighbourhood…"   it has ordered the foundation to "take the appropriate corrective actions to reduce the noise level of the units to not exceed 50 decibels at any point of reception within a residential development."
    The order was made on June 30, 2009, with the abatement to have taken place within 14 days of the order.
    According to the notice of the appeal board hearing, the development permit on the property has not been completed in accordance with the plans and conditions that include making sure the development conforms to municipal, provincial or federal legislation. The non-compliance comes from the conclusion that the development infringes on the Town of Drumheller's noise bylaws.
    "At the point we are at right now we feel we comply with the bylaw as it reads," said Drumheller and District Seniors Foundation board vice chair Dave Vanderkolk.
    The appeal is set for Wednesday, August 12 at 4:30 p.m. It is a public hearing, and any person affected has a right to present a written brief prior to the meeting and be present and heard at the hearing.