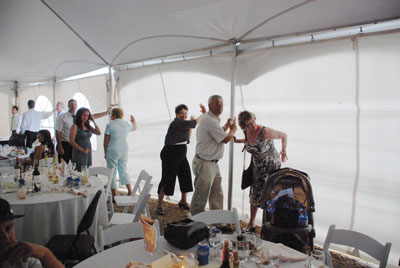 The Town of Drumheller was pounded Saturday night as powerful winds blew through Drumheller, breaking tree limbs, and causing short power outages.
st 1, the howling wind began to blow. Environment Canada had issued a thunderstorm warning for the area. And, although the storm was short lived, wind gusts tossed around backyard furniture and prompted residents to slam shut windows and hunker down. In the morning, streets were littered with leaves, branches and other debris.
    While the wind howled, according to Fire Chief Bill Bachynski, the evening did not lead to any emergencies for his department to deal with.
    "A few fire alarms went off because of the power outages, but other than that, everything was fine," he said.
    The storm was widespread throughout eastern Alberta, with many communities experiencing what is often referred to as a plough wind, or a straight-line wind that spreads out in advance of a thunderstorm.
    The storm had a tragic effect at the Big Valley Jamboree in Camrose, and was experienced by a number of area residents who attended.
    Ida Upton of Morrin was at the concert with her husband Cliff in a group of about nine from the Morrin, Munson area. She was leaving the "bowl" area as the storm swept in.
    Her seat was 22 rows from the stage.
    "We were out of the bowl for about three minutes," said Upton. "This wind came up so hard and so fast that we had to huddle together with anybody who was there, and hung on to the fence…the stage just toppled. We couldn't see anything because we were being pelted by sand, and chairs and awnings were flying."
    The stage collapsed backward away from many of the spectators.
    One person perished in the collapse. It was just before Hollywood actor Kevin Costner's band "Kevin Costner and Modern West" was to take the stage. Upton was planning to go back to see Costner's act before the storm. Her group from Morrin and Munson were all accounted for.
    Upton has been attending Big Valley Jamboree since 2001, and says she will continue to go.
    "We'll be sending in for our tickets right away," she said.