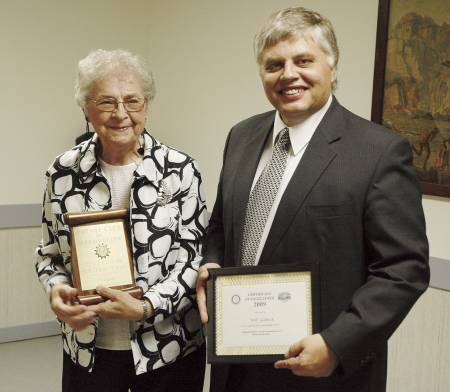 Small town community environments seem to breed upstanding, dedicated and selfless individuals who come forward to better the town in its entirety. Drumheller's Citizen of the Year was chosen to be Olga Rowse, and the valley's Most Courteous Employee is Kellie Smith of SJ Fashions.

 On Saturday, May 9, Drumheller's Rotary Club hosted 2009's Celebration of Excellence, a night of entertainment and the announcing of the coveted Courteous Employee and Citizen of the Year awards.
"So many times we take for granted the people who have built a better community for all of us," said Rotary President, Barb Coney. "It was a tough decision, all are deserving, and we know the work you've all done to make my community a better place."
Rowse was named Citizen of the Year for her lifelong pattern of volunteerism and community involvement.
"As I delved into this woman's life," said nominator Bev Krabsen, Drumheller Health Centre site leader, "I found an amazing person, an anomaly of her time."
Rowse immigrated to Drumheller from Poland when she was 4, and "has been a valley girl ever since."
Now a 50 year member of the Legion's Ladies Auxiliary, and president and treasurer more times than she could count, Rowse has spent many years visiting the hospital's sick, and since its inception,  Rowse had been involved with the auxiliary, which has raised more than $1,000,000 for the Drumheller Regional Health Centre.
Rowse volunteers with Meals on Wheels, has had a perfect 15 year attendance with the Canadian Badlands Passion Play, and has been an active member with the church for 67 years.
When asked why she volunteers, Rowse said, "it is rewarding, I love helping people and paying it forward, because one day it will come back if I ever need it."
"She is a better person because of it," said nominator Krabsen, "she has kindness, dedication– a very fitting nomination."
Runner-up Wilf Golbeck had a long resume to look at according to nominator, Associate Pastor Josh Falk.
Golbeck was born in Germany before moving to Edmonton when he was a teenager. He attended the University of Alberta for forestry and public relations, and is now the district manager at ATCO Electric.
"Wilf believes in working together to make the community a better place," said Pastor Falk. "Excellence characterizes Wilf in whatever he does, and our lives are enriched by people like him."
Golbeck is on the Board of Directors for the Passion Play, was trustee with the Golden Hills School Division from 2001 to 2007, and through golf fundraisers has raised over $160,000 for the Badlands Passion Play.
Kellie Smith was named Drumheller's Most Courteous Employee of the Year, for her outstanding customer service at SJ Fashions in Drumheller.
"During these tough economic times, it has never been more important to show customer appreciation," said Shirley Briault, owner of SJ Fashions.
Moving here in 2002, Briault said that message of appreciation has gotten through Smith, "who feels protected," among the hills of the Drumheller valley.
"It feels like her second family at SJ Fashions. She helps every customer, whether it be with a little advice or those with no clue," said Briault.
Ethel Sieppert of the Drumheller Co-op, was runner-up for Employee of the Year, "a true definition of customer service," according to presenter Gordon Van Kannel.
Ethel had previously won the Employee award in 2001. "She always has a smile, enjoys her job and loves her fellow staff and customers, the feedback we've received of her is that she's positive and has a courteous nature," said Van Kannel.
Dinner was prepared and served by Double D Catering, and three musical acts entertained the crowd of over 80 attendees.
Shae-lyn Eremko performed twice for the crowd, singing a ballad and a Barbra Streisand musical number. Alex and Matt Russel covered songs, new and old, and the Bedhead quartet of Bailey Kakuk, Rachel Coad, Lucy Meyers, and Emily Fletcher performed songs.
The Rotary Citizen of the Year award has been given out since 1970, and the Most Courteous Employee award since 1963.