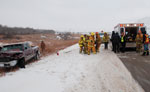 A two vehicle collision on Highway 10 last Monday, took the life of 57 year old Don Turner of Rosedale.
Mr. Turner was airlifted to Calgary by STARS from the Drumheller Health Centre, but succumbed to his injuries.
On December 29 shortly after noon, the collision occurred on Highway 10 about 2 kilometres west of Rosedale.
According to a witness account, a Chrysler Sebring travelling east began to spin out of control and struck a Dodge truck that was west bound. The driver of the truck made an attempt to avoid the collision, but was unsuccessful.
The Drumheller Fire Department used the Jaws of Life to extricate the driver of the Sebring. Both the drivers were transported to the Drumheller Health Centre.
According to a police press release, the road conditions at the time of the accident were extremely icy.