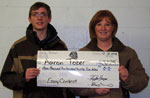 Winning essay nets trip to Europe, thanks to local donors
A Delia student's writing has guaranteed him free passage to Europe with his school, after winning an essay contest.
Delia School students are on their way to Europe. They plan to see six countries in 14 days come this April. Leading up to the trip, Kay Dee Harper, Delia School athletic director organized an essay contest with the prize being a free trip to Europe. The funds for the trip were raised by community members. Thirteen judges read the essays and Grade 12 student Aaron Tober was chosen as the winner.


"Aaron was in complete awe when his name was announced as winner," said Harper. "All he could say was 'wow.'"
The announcement of the winner was on Thursday, December 18, at the Delia School's annual Heritage Hockey Classic, a holiday tradition where students play staff and parents in a hockey game.
Aaron laughs that he wasn't even in the arena when his name was announced. He thought he may have a slim chance at winning, but was really surprised when he learned he won.
"When they called out my name, and they handed me this big cheque, I felt like I won the lottery," he said.
The contest called for students to write a two-page essay answering four questions; why is this trip important to you? How will you apply what you learn on the trip to your future? What is the importance of international travel? If you win the contest how do you plan to show your gratitude to those who sponsored this contest?
"Aaron has a passion for history and culture and will benefit from the experience immensely," said Harper.
Harper explains originally there was a three-way tie for the winner, so they sent the essays to 10 more individuals to judge. All 10 picked Aaron's essay. She says he was the perfect student to benefit.
"He (Aaron) is very worthy of going, and he is an awesome kid," said Harper of the Grade 12 student.
Often, students from Hanna School participate in an overseas excursion howver, from this year there was enough interest at Delia School. There will be five students and five parents participating in the whirlwind tour where students will see major centres including Prague, Berlin and Paris.
Aaron has vacationed in B.C., and participated in an exchange to Ottawa, but has never been out of the country. He said he is looking forward to the trip.
Aaron is very interested in architecture and is excited about seeing the ancient buildings. He is also interested in seeing Germany, as some of his family roots are from there.
Harper says they are planning to do the trip again in another two years.
In total Aaron won $3,225 to go towards the trip. According to Harper all of the funds were raised through local donors. Harper explains the Delia Elks and Royal Purple were a big help as well as an anonymous donor who contributed in a substantial way. Other donors included Ed and Lynn Brinkman, Hanna Farm Equipment, JR Welding, Ross Todd and Company, Rutz Agencies, Dr. Warwick, Ehman Agencies, Vera Larson, Bernice Brower, Connie Blackmere and Hanna Chrysler Ltd.