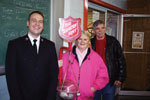 The Salvation Army Food Drive will be out in full force tonight to bring much needed food to families in need this holiday season.
This year, the food bank needs help more than ever says Heather Colberg, the food drive co-ordinator.
"Maybe it's the economic climate right now, but the food bank really needs help to get a good chunk of their supplies," Heather said.
She also said after the holidays last year, the food bank came close to having no food on their shelves.
"We ran pretty low this year, with lots more people in need than normal."
Heather hopes people will "give as much as they can afford."
Volunteers have been coming out in support, but more are always welcome as it helps keep the operation running smoothly.
"Any time volunteered is more than appreciated by The Salvation Army," she said.
"We want to cover the valley from Nacmine to East Coulee and Morrin and Munson and Carbon."
The drivers would appreciate if food could be bagged or boxed, as well as labeled. This makes it easier for volunteers who will not have to disturb residents.
Eager volunteers are beginning the drive at 6 p.m. tonight (Wednesday) giving their time and effort to make the festive season a little more comfortable for financially struggling families.
Food Drive Meeting Places
Newcastle - Newcastle Community Hall
 Nacmine - Nacmine Community Hall
Hunts Crescent, Bowling Alley - DeMott Floors
 Midland - Midland Community Hall
North Drum Area - Oasis Car Wash
 Bankview Area - In front of 710 1 St S.W.
 Riverside/Willow Estates - DCHS parking lot
Downtown, Little League Park - The Brick
 Greentree Area - Greentree School parking lot
 Morrin - Main Street near firehall
 Munson - Munson Community Hall
 Rosedale - Rosedale Community Hall 
Carbon - Carbon Community Hall
East Coulee - East Coulee Community Hall
McConkey Park Area - Court house