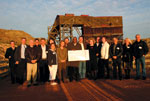 Even on Halloween the ghosts of the Atlas Coal Mine couldn't scare away an air of celebration, as $500,000 was presented to the Tunnel Vision project for the work on opening up the tunnel leading to the entrance of the Atlas #3.
Drumheller-Stettler MLA and Minister of Infrastructure, Jack Hayden, and Minister of Culture and Community Spirit, Lindsay Blackett, were at the national historic site, with a number of other Atlas supporters for the presentation. The funds came from the Major Community Facilities Enhancement Program, and are on top of funds already committed from the Alberta Historic Resources Foundation.
"If we had known what this first milestone would take…we probably wouldn't have taken it on," chuckled Atlas Coal Mine Historical Foundation executive director Linda Digby, on the momentous task of reopening the 200 foot tunnel leading to the entrance of the mine.
A group of miners spent much of this year at the Atlas working underground re-timbering and sheeting the tunnel. The project will add the element of the underground experience for visitors when opened in the spring of 2009. The project also is integral in preserving the coal conveyer that, over the years had become buried as the tunnel collapsed.
The funds raised came as part of a matching program whereby the Alberta government matched contributions from private and corporate donors. Some of those donors included EnCana, ATCO Electric, Century Coals and the Drumheller Rotary Club.
One of the mine's fervent supporters of the project is Minister Hayden, of whom Digby said the project wouldn't have been possible, if, "there wasn't a little boy inside this man, excited by trains and mines."
Hayden said the support came from the whole legislature, and that, "it's nice to see hard work rewarded."
Minister Lindsay Blackett said, "it was a great day bringing support to such a unique project with such significance."
"History tells us where we are and where we are going," he said.
According to Digby, the opening of the tunnel is the first major milestone that will come to complete fruition in May of next year. They are also busy on their historic restoration program working on machinery and buildings, including the blacksmith's shop near the mine entrance. Other milestones they are looking towards are re-opening the mine entrance, enhancing the train ride and opening a visitor's centre.