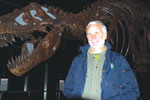 The Mail caught up with Jay Ingram, co-host and producer of Daily Planet, while the crew was filming their upcoming special "Daily Planet Goes to Alberta".
Daily Planet, the award-winning daily science show, the first of it's kind, is travelling around Alberta to shed light on the massive scientific and technological advancements in Alberta.
"We are doing everything from the oil sands, tracking baseball sized hail in the Foothills, and of course we have a dinosaur story," Jay Ingram said, while sitting in the foyer of the Royal Tyrrell Museum on Thursday, October 23.
Daily Planet will be airing the week-long special from Monday, October 27, to Friday, October 31.
Ingram had just finished visiting the hoo-doos, for a segment of the show called Science and City, that will show the audience how to create some of their very own.
Ingram also said they planned to do a story about a dig in Dinosaur Provincial Park.
When asked why the show was coming to Alberta, Ingram said, "Because there are a lot of scientifically interesting stories here. Everyone knows about the oil sands."
"We like to go to a place to do something concentrated, it's more interesting to the audience to have a concentrated view."
Jay Ingram is one of Canada's best known science popularizers, winning numerous awards from Canadian science institutes.
Ingram said, "I don't care what medium, I just want to do good science stories," and clearly true, he has written nine books.
His latest came out in early October, entitled, The Daily Planet Book of Cool Ideas, which explains what global warming is and what people are doing about it.
"It's not one of those 100 things to do taken from a TV series, it is full of entertaining and eccentric people that is expected from Daily Planet," the author explained.
"It doesn't tell you to change a light bulb, it just shows how people are doing something about climate change."
Ingram referenced the solar powered oven and energy independent houses that have been showcased on Daily Planet before.
This isn't the first time Jay has visited Drumheller, he came here two years ago and "tramped" around with his two year old son at the museum.
"I love the museum, the design is just beautiful," Ingram expressed.
Before the TV personality left for a busy day, the question was brought up as to if he loved what he does.
"Like any other job, some things are a drag. Everyday I get to learn a bunch of things. But TV can be a tiresome industry, an endless process."
"Aside from that I love hearing and learning about new things."
Discovery Channel is airing the week-long special Daily Planet Goes to Alberta, this week from Monday, October 27 to Friday the 31.
The show airs at 5 and 9 p.m. on Discovery Channel.