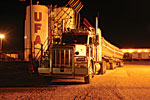 Truckers across Alberta, Saskatchewan and Manitoba may be facing a shortage of diesel fuel, in what a corporate representative is calling an industry wide problem.
Diesel supplier, UFA's manager of corporate communications, Natalie Dawes, said scheduled and unscheduled maintenance taking place at refineries such as Edmonton are making it difficult to reach demand for transportation's key fuel, diesel.
"For more than a year we have already been dealing with delicate balancing problems," Dawes said, speaking of recent hurricane damage in the Gulf Coast that has left most refineries at less-than-full capacity.
Consumers have been hit hard with high fuel prices and numerous shortages of fuel at the pumps this year and UFA says they have no idea when it will be balanced.
"It's a busy time of year... it's not a fun time, that's for sure," Dawes reported, but adding they are doing everything they can to help.
Dawes said, "We are on allocation from other refineries, but we are not getting our full deliveries." They are importing fuel to try and normalize things as fast as possible.
Darrell Kohut, of Hi-Way 9 Express, reported the company is able to get rations, but is only able to receive 50 per cent of their regular supply.
Kohut said, "There's nothing we can really do, except to try for a higher fuel economy," mentioning that they have been rationing diesel from the other Hi-Way 9 Express depots around Alberta.
With trucks being a major source of transportation in Canada, the effects of most truckers only getting 50 per cent of fuel is sure to have an impact on the already turbulent economy.