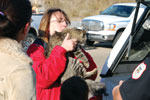 One cat gained the attention of at least half of Drumheller when it caused their power to be turned off Friday, October 10, after being stuck up one of the town's main power-lines for days.
On a chilly Friday morning, ATCO Electric arrived at the power-line on Elgin Road near the industrial park, to the rescue of Charlie the cat, Tyler Wood's kitty.
Tyler called for the cat to come down all morning, but the pole was over two storeys high. Charlie wouldn't even come down when tuna was laid out at the foot of the pole.
Charlie left the family's house on Monday afternoon, and wasn't spotted until Wednesday by a group of neighborhood children.
Temperatures dropped to below zero at night, as the cat sat waiting on the pole for three days.
The cat was resting on a pole that supported a 14,000 volt power-line and the Drumheller Fire Department did not want to risk saving the cat.
It wasn't until Friday morning that the cat finally was brought down by an ATCO employee in a bucket, who used a blanket to grab Charlie.
For about 40 minutes, the south side of Drumheller was without power because it was too dangerous to rescue Charlie with live power lines only a few feet away.
The incident was given attention by media in Calgary, and they were on the scene Thursday night and Friday morning as poor Charlie was saved.
Charlie's owners were ecstatic to have their beloved pet finally out of harm's way.