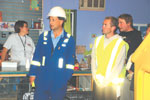 North Drumheller residents return home shortly after midnight last Sunday
Drumheller's emergency services avoided what could have been a serious situation Sunday night, September 14 after a 3/4 inch gas line to a residence was severed, spewing natural gas into the air.
About 150 residents from Larch Avenue, Beech Street and Grove Avenue in North Drumheller were immediately evacuated from their homes shortly after 10:30 p.m. by emergency personnel. They were directed to the former day care centre on Highway 9 North.

Fire and police were first on the scene and the pressurized gas escaping from the broken line could be heard a block away.
ATCO Electric employees immediately cut electrical power to the area to avoid a possible ignition source, and an AltaGas employee and a Drumheller firefighter went in to the source to crimp the broken line and prevent more gas from escaping.
Both men wore self contained breathing apparatuses, and the gas was then shut off to the residence.
"We were fortunate there were no injuries and no fire resulting from the incident," Drumheller Fire Chief, Bill Bachynski told The Mail.
"The emergency personnel on scene formulated the plan to recover the situation and cap the line and all of the people worked well together," said Chief Bachynski.
He added that people were very co-operative and that three EMT units attended the scene should their services be needed.
Big Country Victims Services also attended at the former day care centre where evacuees were served water, coffee and could come inside.
Most, however, chose to stay outside or leave the area.
At midnight, the situation was under control, and residents were told they could return home. The gas service to their homes was not interrupted by the incident.
This incident is under investigation. If anyone has information regarding this investigation please contact the Drumheller RCMP at 403-823-7590.