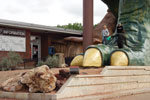 Tourism in Drumheller is still very strong, despite gas prices and the high Canadian dollar.
The Royal Tyrrell Museum has been booming with visitors the last few years, and although they are down about seven per cent this year compared to last, taking in consideration last year was the biggest in fifteen years, it's still prosperous.
Lisa Making of the Tyrrell Museum said, "even though our general attendance is slightly down, the people who show up are thoroughly enjoying our museum and what we have to offer."
Program attendance has been growing this year, and she told The Mail that all the museums in the area have been experiencing a great showing for the 2008 summer.
Just because the Tyrrell is doing good now, it doesn't mean they are slowing down by any means.
"We have some big things coming up, such as celebrating our anniversary in 2010. We are working on a variety of plans for our 25th anniversary," said Making.
The Atlas Coal Mine is also enjoying the summer, with two days of record attendance of more then 500 people each.
The Tourist Information Center, located at the foot of the World's Largest Dinosaur, has reported it's numbers are very strong compared to last summer. About half of the visitors Drumheller receives are Albertans, and they are seeing an influx of international visitors from throughout Asia and Europe.
Although the summer is nearly over, the museums are still open well into the fall.