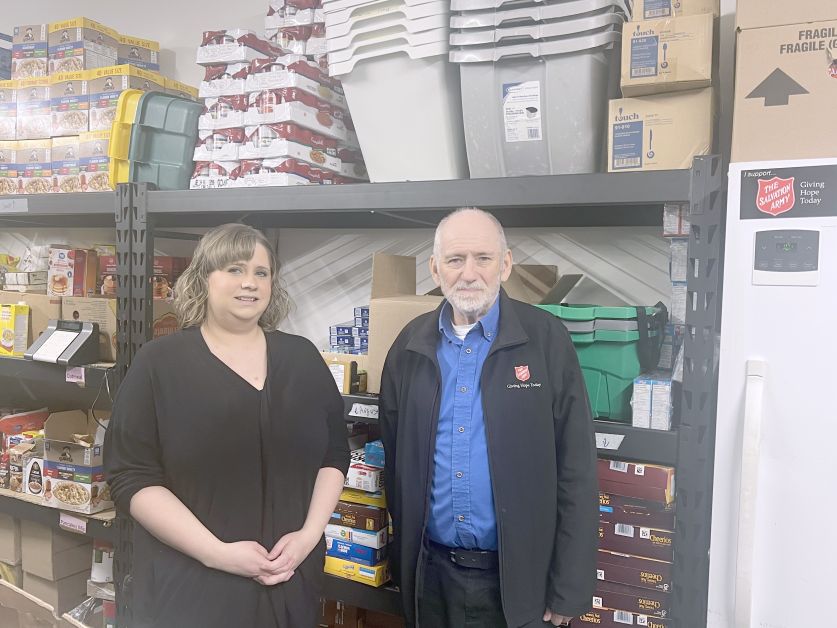 The Salvation Army Food Bank and Town of Drumheller Community Development and Social Planning department were among the recipients to receive funding for food banks and food security programs announced by the Alberta provincial government on Tuesday, April 11.
Alberta's government announced in November 2022 it would provide a total of $20 million in funding over a two year period to support food banks and food security programs across the province; a total of $10 million has been distributed to some 210 organizations.
"We are seeing new clients on the regular," shares Community and Family Services coordinator Amanda Courtenay of The Salvation Army. "Most of (our new clients) are singles and couples without children."
The Salvation Army Food Bank received a total of $8,000 as part of the provincial funding, a majority of which helped to purchase produce and other perishable food items, such as milk and eggs, for food hampers. It also helped to purchase non-perishable food items which will help stock the shelves of the food bank.
"Last (fiscal) year, between April and April, we had just over 40,000 pounds of food go out the door," explains Ms. Courtenay. "That equates to about $130,000 worth of food."
She says, during the same period, just shy of 900 food hampers were sent out to people in need in the community-about on par with the height of the COVID-19 pandemic in 2020, not including Christmas; if the food bank had to purchase every item put in the hamper, the $8,000 received would have equated to a little under a month's worth of food.
"Those folks who find themselves in that situation (of needing the food bank), especially those who find themselves in that situation for the first time, it's extremely hard for them to walk through that door," says Major Robert Burrell of The Salvation Army.
The Community Development and Social Planning (CDSP) department also received a total of $50,000 in funding, which will help support development of food security programs in the community.
CDSP manager April Harrison shares $15,000 of this funding will help to re-establish its hot meals for older adults program, which is in partnership with Freson Bros. The hot meals program is currently being finalized, and the department will reach out to previous program participants in the Drumheller and Starland County areas once it is relaunched.
Ms. Harrison is hopeful the funding will allow the program to run until at least the fall, and the department will continue to apply for grants and look for other support to help keep this program running continuously.
A second program will also be established using the remaining $35,000 of funding, targeted to help people in need from a food security perspective. CDSP is working with local businesses and grocery stores to develop this program, and Ms. Harrison says she anticipates program details will be announced in early May.
"When this grant came up, this was not a chance we wanted to pass up," Ms. Harrison says. "It helps us help people a little bit more."
A trend both The Salvation Army and CDSP have noticed is an increased need for services among Drumheller's single and couples without children populations.
The provincial government announced the Alberta Affordability Action Plan in January 2023, which provides relief payments to help struggling Albertans with the rising cost of living due to inflation. However, this plan targeted seniors over 65, people with disabilities, and families with children under the age of 18, leaving single people and couples without children ineligible for much of these supports.
Ms. Harrison adds the Drumheller Poverty Reduction Alliance, a non-profit group established in 2019 with the goal of preventing people from falling into the cycle of poverty, and pulling those already in the cycle out of poverty, is looking for ways to support those struggling in the community. She adds food security plays an integral role in poverty reduction and encourages anyone who is interested in helping out, getting involved, or learning more about the Poverty Reduction Alliance to contact her directly at 403-823-1315.