Students at schools in Drumheller are once again raising funds to support the Terry Fox Foundation, and some students at Drumheller Valley Secondary School (DVSS) found a creative way to get teachers involved in the pledges.
On Thursday, September 22, the DVSS Cake Auction fundraiser was underway. Among the delectable desserts on the auction block was a cake with the likeness of Social and Language class teacher Robert Metcalfe decorated with bright coloured icing across the top of the cake.
Principal Curtis LaPierre and Associate Principals Brad Teske and Dana Yeman also got involved in fundraising activities, with students pooling their resources together to bid on the opportunity to shove plates of whipped cream in their faces.
Over $3,400 was raised during the fundraiser event.
St. Anthony's School has set a fundraising goal this year of $5,000.
Last year, St. Anthony's was ranked third in the Alberta, Northwest Territories, and Nunavut region for elementary school fundraising after raising $14,876.25 for the foundation.
"Last year was the highest money raised since we started in 2005," says Maureen Peters, educational assistant and Terry Fox fundraising promoter.
On Tuesday, September 27, St. Anthony's students attended an assembly prior to heading out on the Terry Fox Run. Drumheller Mayor Heather Colberg spoke at the assembly, and students also watched a special video presentation from a Grade 7 St. Anthony's student who is a cancer survivor.
Following the assembly, students headed out on the Terry Fox Run. Due to construction in the area, the normal route along the river was modified.
Students walked through the community of Midland on 1 Avenue NW before returning to the school.
A first count of funds raised by St. Anthony's students were around $12,500 on Tuesday, though Ms. Peters noted a final count was still pending.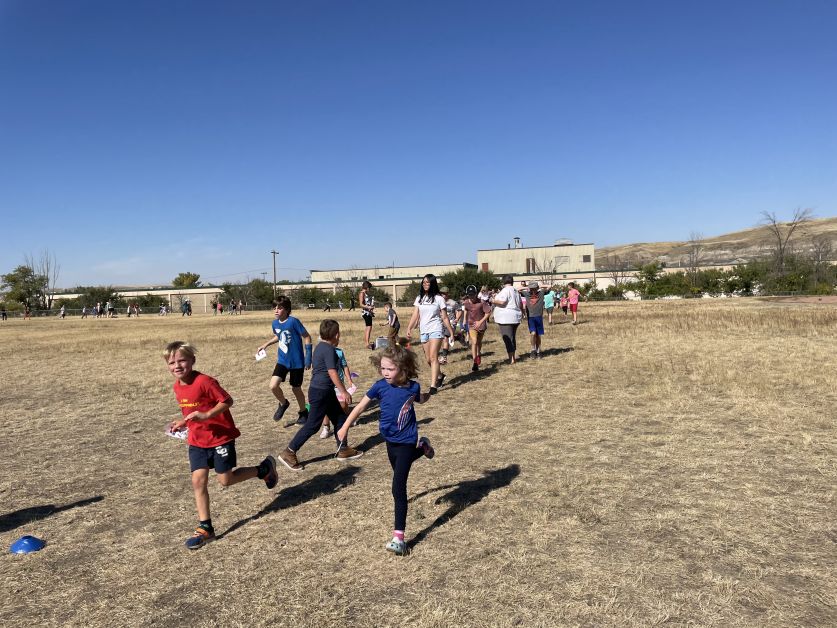 Greentree School students were also given the opportunity to raise money for the Terry Fox Foundation, though no goal amount was set this year.
On Wednesday, September 28, students attended an assembly before going out onto the school field where they ran for a half hour.
Total amounts fundraised by Greentree School were unavailable at press time.
UPDATE: As of Wednesday, September 28, a total of $14,626 was raised by St. Anthony's students and Greentree students had raised $7,826.25.