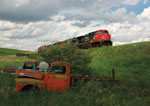 Seven mile line offered for sale
CN Rail has announced it is taking steps to close a seven-mile stretch of track called the Dinosaur Spur.
The track in question runs from just north of the Village of Morrin, to where it connects to the Drumheller Subdivision near Munson. This piece of track has been on the company's discontinuance list since February of 2007.
"With this piece of line we are taking the next step in the federally regulated process, which is offering the line for sale," said Kevin Franchuk, spokesperson for CN Rail.
He stresses that the line is not a part of the Drumheller Subdivision, which has been the subject of rumors about closing down.
An advertisement appeared in the August 20 edition of The Drumheller Mail, as part of the process. It states that CN intends to sell its ownership and operating interests in the line, or discontinue use if it is not transferred. It asks interested parties give notice in writing by October 17, 2008.
If, after October 17, no party expresses interest, or no agreement has been entered within six months, the line will be offered to the municipality or the province. Each of these bodies will have 30 days to accept the offer. If no agreement is entered, the railway line will cease.
"The Dinosaur Spur has seen very sporadic traffic for several years, and CN does not expect this to change, so we are offering it for sale," said Franchuk.
CAO of Starland County, Ross Rawlusyk is aware of the plans of CN with the spur that lies in the County. He says council will be discussing the issue in the near future. While he says he knows the line is not utilized to its fullest, and is in some disrepair, it is disappointing in a time when transportation costs are rising. They would be discontinuing an efficient means of transportation.