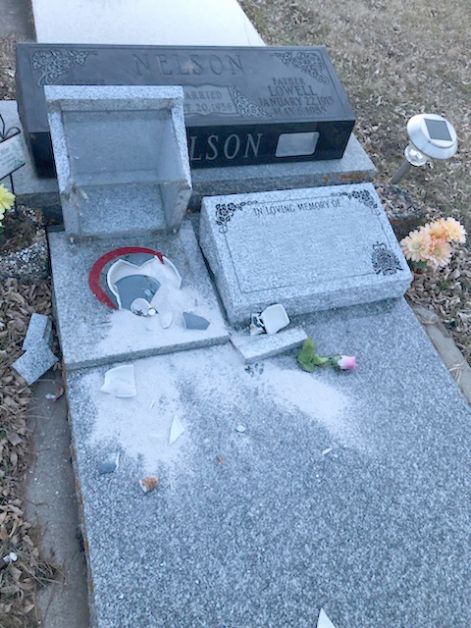 A Trochu woman is upset after seeing her mother-in-law's grave in Rumsey vandalized.
Audrey Nelson told the Mail she and her husband were made aware of the destruction that occurred on May 3 by someone who was working on headstones at the Rumsey Cemetery.
She explains her mother-in-law Lizzie Nelson passed away in 2014 at the age of 97. Her remains were kept in a small glass curling stone vessel.
"Someone had given it to her years ago and I think it had wine or whisky in it or something… and she wanted her ashes in it," explains Nelson.
The curling stone was encased in an approximately one-foot square granite box with plexiglass to protect it from the weather, it was secured to the slab of granite where their grandfather was buried.
"They have ripped the granite box off the slab and smashed the curling rock, and her ashes were strewn," said Nelson.
She says it must have happened very recently to when it was discovered because the ashes had not blown in the heavy winds last week.
"I would like people to know and maybe whoever did it will have remorse," said Nelson.
She said it appeared nothing else in the cemetery seemed to be disturbed, and she speculates maybe someone thought there was something of monetary value in the box, like jewellery.
They have reported the incident to the police and hope it can be resolved.
"We are appalled and angry over such a terrible destruction of our precious mother's remains," said Nelson.