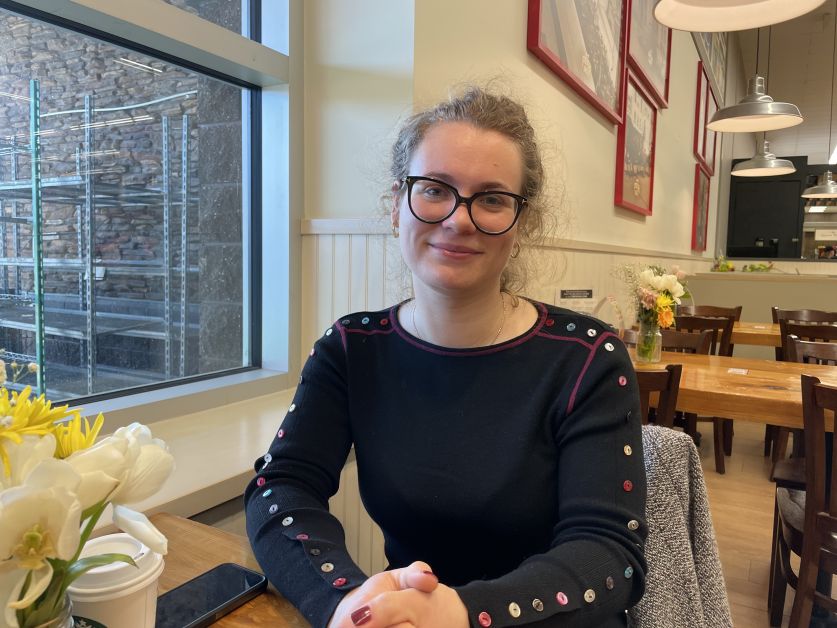 A young Drumheller family is making preparations to welcome two of their parents, who are fleeing war-torn Ukraine.
Olena Parkhomenko and her husband came to Drumheller in about 2017 from the City of Poltava. This is a city of about 300,000 in central Ukraine. Both had careers in medicine, but in Canada, he is working in agriculture and she works at the Ramada. They now have a three and half-year-old daughter.
They have watched in shock as Russian troops attack Ukraine. While the city they're from has so far remained intact, they are not far from Kharkiv, which has been devastated by bombing.
"It is a terrible situation there (in Kharkiv), I don't know how many hundreds of bombs have hit the city," said Olena. "Right now in my city, there are air alerts. The situation is all around and you have to spend hours every day in bunkers."
"Nobody could imagine it would be like this in the 21st century, for me it is still impossible."
Her and her husband's parents are still in Poltava, as well her friends. Her husband has grandparents and cousins who are all living under constant alerts. She has been working on having her parents come to Canada.
"It is hard, because people work all their lives to have what they have, and they don't know what will be tomorrow," she said.
On the one hand, they are lucky because they already have visitor visas in place. The cruel twist was that her parents were visiting Drumheller and returned just days before the Russian invasion began.
"Can you imagine one month ago? We heard some information on Russia, and they had lots of soldiers on our borders, but nobody believed it because we thought it was impossible," she said.
They are exploring the best way to extract themselves from Ukraine. Olena has a friend who speaks some English and is planning to accompany her parents. Her friend will be separated from her husband, who will have to stay.
"Most of the people are going to Poland, usually it is a one day journey by train but right now with every blockade, and the military is everywhere. I am not sure how long it will take," she said.
On her end, Olena has been working hard to make arrangements for her parents and friend to arrive. She is grateful for the support from Cass Houston and Drumheller Housing, who have helped to secure accommodation for her parents. The Ramada, where Olena works, has donated some funds to make this move a reality.
"For them, it is a little bit easier, because we are here, we can help by asking about jobs, I can ask about placements to live," she said. "I can imagine for people who do not have this opportunity, what choice do they have?"
While her parents have their visas in place, she is grateful for the efforts made by the Canadian Government to help people settle fleeing the war. Her girlfriend has applied for the program.
She adds many Ukrainian families in Drumheller wish to help their families escape, but the high cost of flights and logistics make it very difficult.
"I know some of them have families in cities where the situation is worse than mine. But it's hard because here they are young families, young people with kids, and it's hard to support."
She hopes the move will happen in the next week or two. She has received the keys to the apartment for her parents and is working on getting it prepared and outfitted for their arrival.
"I just want to say thank you for every and each small help, because every each and small help makes a big help," she said.
She sees a positive of more families coming.
"It is a great chance for Canada because I know Ukrainians are very hardworking. If Canada has a lot of job opportunities, I can tell you for sure Ukrainians will be great workers," she said.
Kimberlee Groves is a settlement counsellor for Drumheller and Hanna through the office of the Brooks and County Immigrant Services. She says this service is new to the region.
"We are here to support anyone new to our community. We help with things like finding a place to stay, support with finding employment, assistance with forms and documents, finding volunteer opportunities, language learning, school introductions and family activities for their children," said Groves. "I am supported by a team of settlement counsellors at Brooks & County Immigration Services in Brooks as well as Calgary Catholic Immigration Society in Calgary."
Groves says community support can be as small as saying hello and introducing yourself, to inviting someone to participate in something in our community. People can also tell new friends and neighbors about different organization supports from us or other community organizations.
They are located in the Campus Central Alberta Building.