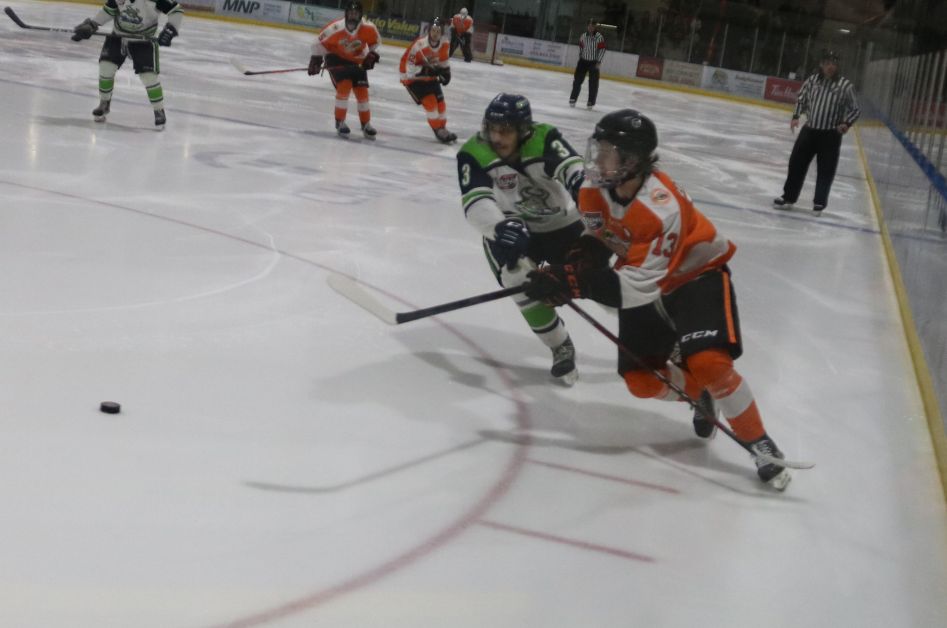 It was a nail-biting series, but the Dragons showed resolve in topping the Calgary Canucks four games to two in the first round of the AJHL South finals.
The Dragons and the Canucks were tied at one apiece, coming off the first two games at home on March 4 and 5. On Tuesday, March 8, the series headed to Calgary, and the Dragons dominated. Keegan Beagle took the lead for the Dragons with four minutes left in the first period on the powerplay and never looked back.
Carter Belitski and Kiano Robinson each scored in the second period to take a 3-0 lead. Grayson Dietrich added one more 3:50 in the third period before Calgary added one. Sam Simard added a powerplay goal with 19 seconds left as the Dragons went on to a 5-1 win.
On Wednesday, March 9, the Dragons outshot the Canucks 42-38, but nothing was reaching the back of the net. Finally, 42 seconds into the second period, Simard put the Dragons up one. This held until there was 1:17 left in the third period when Calgary tied it up, forcing overtime. Calgary took the 2-1 overtime win, sending the series back to the Dragons Den tied.
More than 1,300 fans were at the Drumheller Memorial Arena on Saturday, March 12, for game 5. This time the Canucks outshot the Dragons 34-22. With just over six minutes left in the second Dietrich scored, putting the Dragons up 1-0. With 9:25 remaining, he scored his second of the game, putting the Dragons up 2-0 for the win and the series lead.
The teams headed back to Calgary for Game 6 on Sunday afternoon, March 13. Calgary scored first but Hayden Prosofsky tied it at one, after one period. Calgary took a 2-1 lead after two, but Prosofsky tied it up on the powerplay 6:39 seconds into the third period. Just 32 seconds later Ty Whitford scored again on the powerplay to take a 3-2 lead. The Canucks scored two minutes later, but less than a minute later, rookie Caden Heins scored his first goal as a Dragon, winning the game 4-3 and the series 4-2.