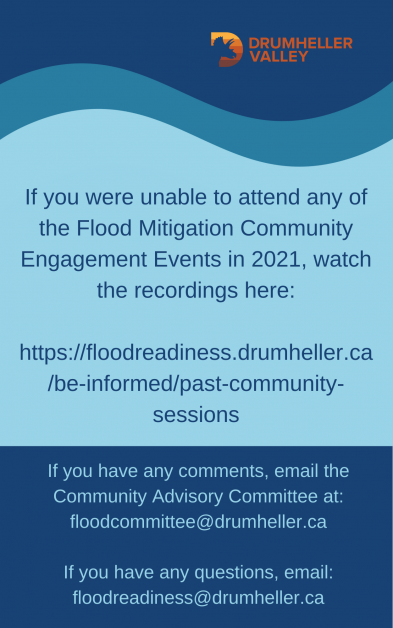 On Thursday, January 6, the Drumheller Resiliency and Flood Mitigation Office held a community engagement meeting with the residents of Lehigh regarding the neighborhood's preliminary flood mitigation feasibility study.
This meeting was for residents of Lehigh only, and a public community engagement event will be announced in the near future.
During this meeting, Lehigh residents were provided with information and informed it is no longer safe to continue to reside in Lehigh. Previous studies conducted by former project engineers and the current flood team have come to the same conclusion that other flood mitigation options are not tenable.
At the Lehigh meeting, a death threat was made towards a member of the flood mitigation team.
In addition to being very concerning and troubling, this type of behaviour is entirely unacceptable. The RCMP was asked to review the matter.
All Town employees have the right to a safe and respectful work environment.
"We recognize this has been a very challenging time and the nature of the circumstances can be very emotional. We understand individuals may at times express themselves in a less than ideal manner, including using profanity, insults, and accusations. However, violent, abusive, or aggressive behaviour will not be tolerated," said Drumheller Mayor Heather Colberg. "We will continue to ensure all residents are treated with fairness, integrity, and respect in our interactions with members of our community, and we would appreciate the same in return. The resident's well-being is important to us and we're working hard to find a resolution for everyone."
Since this matter is under investigation, the Town will not provide any further comment regarding the incident.
The Drumheller Mail reached out to some Lehigh residents for comment regarding this meeting; the request was declined.