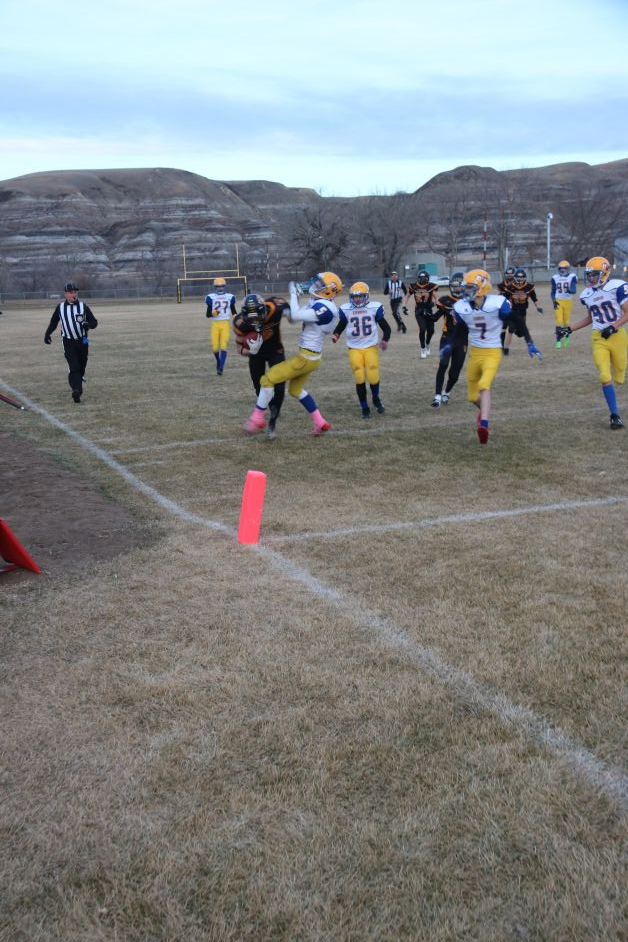 The Drumheller Senior Titans are on their way to the Tier IV Provincial Semi-finals, after a come from behind defeat of the Willow Creek Cobras, last Saturday.
The Titans hosted the Cobras on November 13 in front of an appreciative hometown crowd. The Cobras are a strong program and are no stranger to the provincial playoffs. The Cobras also had the jump last Saturday, taking a 12-0 lead by halftime. The Titans came out in the third quarter and scored twice to go up 13-12. They held strong, and punched another one in to go up 19-12. The Cobras kept the pressure up in the last three minutes, but the Titans held their composure, to take the win.
"The bye-week didn't help us, we came out pretty sluggish in the first half," said Coach Ken Fournier. "It was good for those guys in Grade12 to get that provincial win back. It was a competitive environment. Claresholm put together a pretty good game plan for us. They took a lot of the things we do away and kind of forced us to do things we wouldn't normally do, and we ended up in a pretty close game."
While the Cobras were holding strong through the first half, the pace wore on them, and the game began to turn for the Titans.
"Part of our game plan going in was to go back and forth and run the ball. Keep it on the ground and keep it in control," he said. "They wanted to pass the ball, so we wanted to eliminate that. In the first half unfortunately our offense couldn't get first downs and continue drives. Defense and special teams held us in there. That is a sign of a good team when you can find different ways to win every week."
This win puts the Titans up against Taber in the Provincial Semi-final. Taber defeated Canmore in their quarter-final handily.
"What we do know is they run a six-pack, they like throwing the ball, they like running to the perimeter. Their defense is quick, they can move and they put up a lot of pressure. So we'll have to prepare," said Fournier.
The Titans host Taber at 1 p.m. this Saturday, November 20. If successful, they play the winner of Sexsmith and Ardrossan in the provincial final.