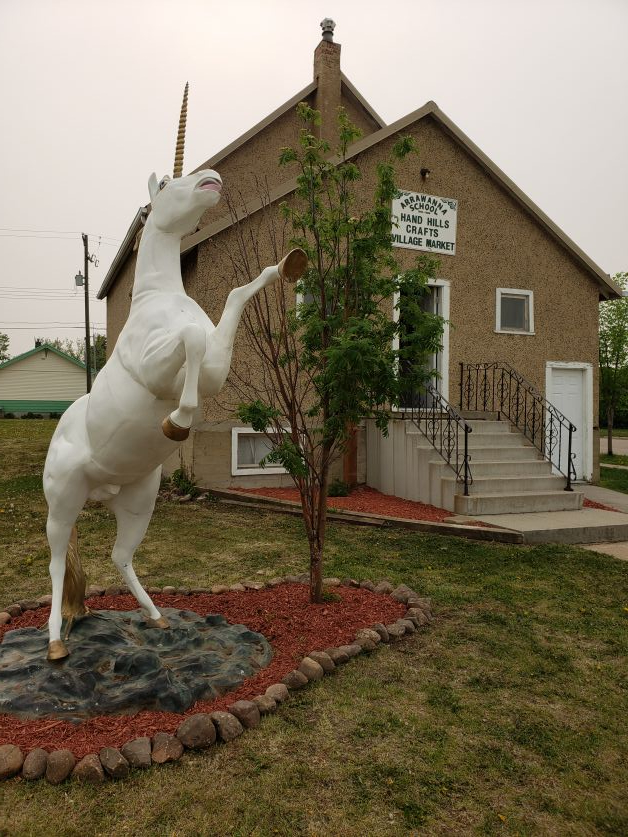 Thieves have struck at the heart of a Delia business taking their iconic mascot, Morgan the Mystic Unicorn.
Dave Smeyers, owner of Hand Hills Crafts on Main Street in Delia, tells the Mail that sometime late on Thursday night, April 15, or early Friday, April 16, thieves took the unicorn statue.
The statue itself is about 11 feet tall and weighs in the area of 600 pounds.
"He's on an adventure, but we sure would like to get him back," said Smeyers. "It not like something that you could put into your trunk."
He said the Drumheller RCMP are investigating. There are tire tracks near where Morgan the Unicorn used to stand. They are looking into whether there is any video surveillance.
Morgan has been in Delia for about two years and quickly became a feature. He said Morgan got his name from villagers through a contest.
"We wanted something to represent the child in all of us as well as something for the children in the village and anyone who wants to feel a moment of magic," Smeyers said when Morgan originally arrived at the market, which carries local artisan goods.
While it is a loss for Smeyers and his business, he says it is also a loss for Delia because it brought something unique that could help the community.
"It's devastating to the village," said Smeyers. "Small towns are dying, and that was actually one thing that was bringing tourists in. Hundreds and hundreds of families were taking pictures with him. We are just devastated. I almost feel like he was our child."
He hopes that Morgan will be returned.
"We hope he is identified and spotted. We'll go get him, we just want him returned. Bring him back, and no questions asked," said Smeyers.
If you have information, please contact the Drumheller RCMP at 403-823-7590 or your local police. If you wish to remain anonymous, you can contact Crime Stoppers at 1-800-222-8477 (TIPS), online at www.P3Tips.com, or by using the "P3 Tips" app available through the Apple App or Google Play Store.
"It brought smiles to a lot of families and kids," he said.