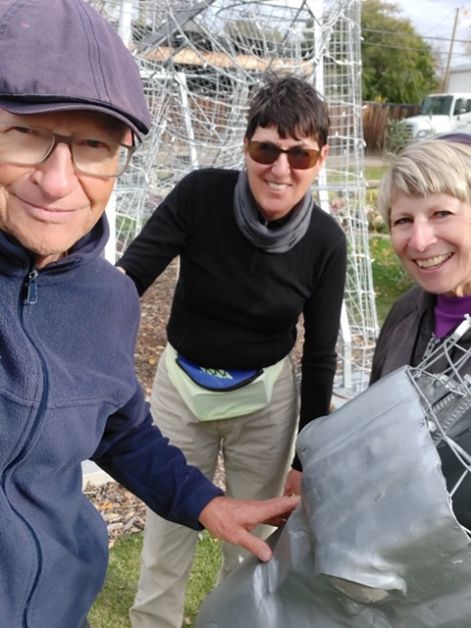 Munchie has a new look in time for the holiday season.
The park on the corner of 3rd Avenue and 2nd Street West has been a great place for residents and tourists to enjoy the outdoors, however Munchie, the topiary dinosaur was looking a little worse for wear.
Corrine Gerling explains that a few weeks ago, while at Valley Brewery, right beside the park, a conversation started about the Munchie, and Mayor Heather Colberg, asked Irv and Corrine if they would help put new lights on Munchie. The Gerlings have been active volunteers in the community, working on this park, as well as helping with the cleanup and the light up the night event. They agreed to help.
When we went out and looked at it, we said, 'it needs to be painted,'" said Corrine. "She (Colberg) spied Joe Castonguay, also in the brewery, and she immediately seconded him."
'We took the lights off, called Heather, she called Joe, and it was painted. In the meantime, the town ordered some new lights."
The Gerlings enlisted Bob and Barb Neigum to help put the new lights up.
"He does look really good, the difference is startling isn't it?" We were very pleased with how it turned out.
She says volunteerism is important to the community.

"If everybody gets involved a bit, it just helps the town. Whether it is the cleanup or you are picking up garbage on a walk. We aren't on any big town committees, but if there is a project to be done with a few days labour we will take those kinds of things on," said Corrine.
While Munchie is prominent in the park, this year the park was kept in pristine condition due in large part to the volunteer efforts of Gloria Haanen. During the spring and summer, it was rare not to seen Haanen at the park, pulling weeds and making it beautiful for the community.
"I quit work about 12 years ago, and I like to garden, but I live in an apartment and there is no garden here, so I just go down there and do that," she explains.
This year she spent about three days a week at Munchie Park. She was busy with everything from planting, to watering and weeding.
She explained that in previous years there was an inmate crew that helped to plant the garden as well as help with upkeep.
This year they didn't have that program so I spent a lot more time down there than I normally do. I do the watering and the rest of it, and Corrine and few other people did the planting. It takes a group effort," said Haanen.
Her work has created a great space for the community to enjoy. Her thanks are modest but appreciated.
"I get lots of ''beeps' (from cars driving by), lots of thank yous, and that does it for me," she said, adding that Munchie "just glitters, they have done a wonderful job of it."