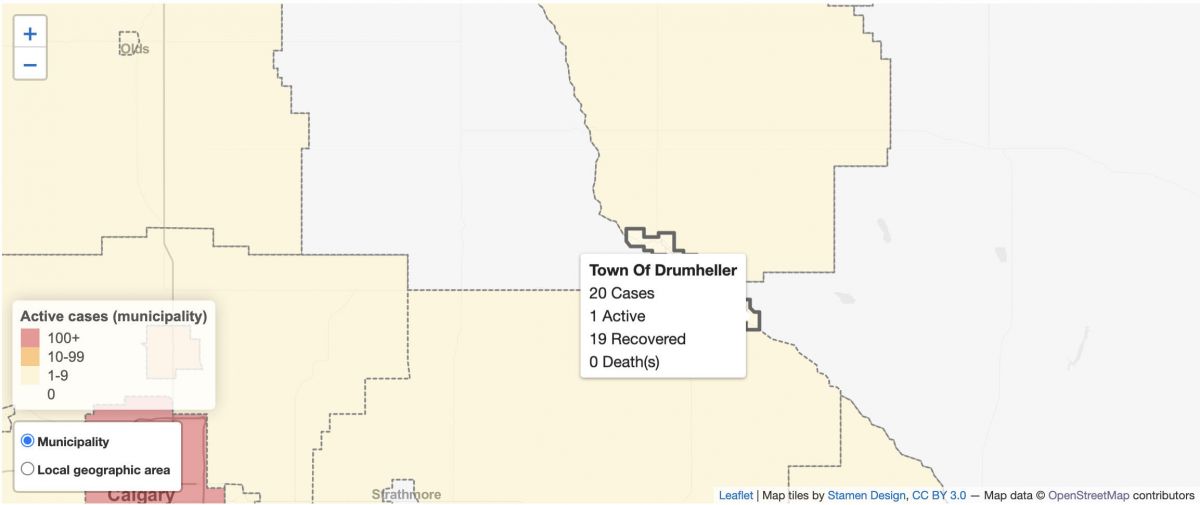 There were a total of 27 active cases of COVID-19 as of August 31 in Alberta's Central Zone; 20 of those cases were newly identified between August 24 and 30, with one of those cases in Drumheller.
A brief increase in late-July and early-August placed Kneehill, Starland, and Wheatland County temporarily on the Alberta Health Services watch list. However, the Central Zone has the lowest number of COVID-19 cases across the province.
During a press conference on August 31 Alberta's chief medical officer of health, Dr. Deena Hinshaw said, "School is starting this week in many places across the province and the success of schools re-opening depends on all of us."
A new health order, signed over the weekend and which went into effect on August 31, states the two metre distancing does not need to be ensured by school operators "when a student, staff member or visitor is seated at desk or table" during instruction or study.
Dr. Hinshaw received criticism from Jason Schilling, president of the Alberta Teachers' Association, on Twitter regarding the timing of the order, as well as her reversal on social distancing in classrooms despite ongoing recommendations of two metre distancing elsewhere.
"The Strategic Advisory Council, which provides advice to (Dr. Hinshaw) still suggests two metres, so what gives? This goes against everything we've been told for months," Schilling said in a Tweet.
Dr. Hinshaw took to Twitter to respond to Schilling's criticism, noting the timing of the order was "not to hide information from Albertans, but to ensure school authorities knew about the order before it came into effect today (August 31)."
Students will need to perform a daily questionnaire to determine if they have any symptoms, and whether they can attend school that day. Face masks will still be mandatory for students in Grades 4 through 12 and all school staff.
As of Monday August 31 there is one active case in Drumheller and Starland County, four active cases in Wheatland County, and zero active cases in Kneehill County.
Current information provided by the Government of Alberta lists a total of 1,370 active cases with 133 new cases as of August 31. Over the weekend an average of 11,223 tests were completed per day; a total of 967,083 tests have been conducted on 767,296 Albertans.
Province-wide a total of 12,293 Albertans have recovered from COVID-19, with two new deaths reported bringing the total number of casualties to 239 across the province.