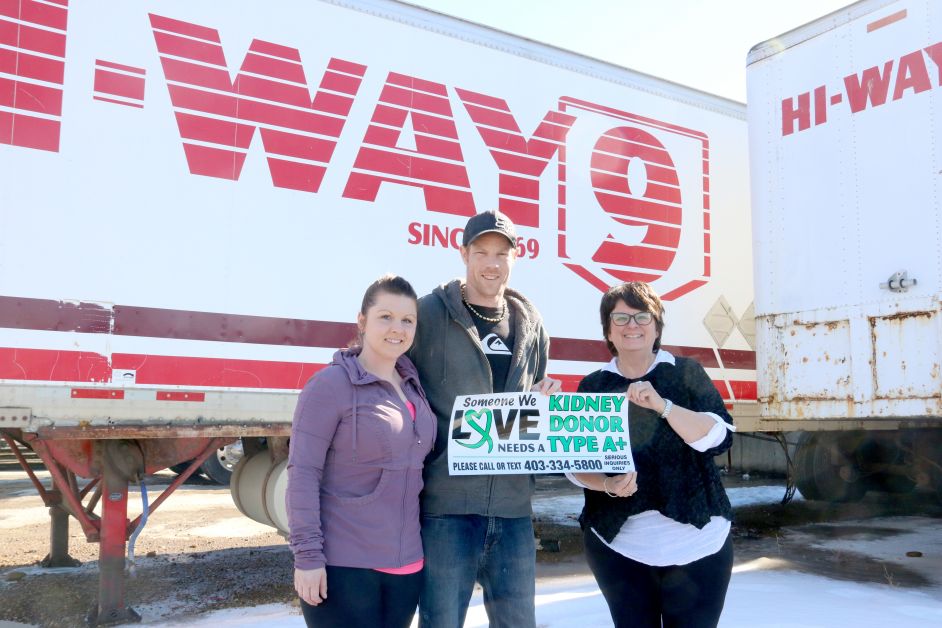 A Drumheller man's search for a transplant donor just went province-wide, if not further thanks to local business support.
James Vogel, a local husband, and father, is dealing with a difficult path of kidney failure, exacerbated by diabetes. He has recently begun doing dialysis at home.
About a year ago the 34-year-old went public with the search for a Kidney Donor Type A donor. This week his family received a big boost when Image Crafter Signs said it would donate decals to be put on Hi-Way 9 Express' trailer fleet, to help in his search.
"This is beyond my dreams. It is incredible on how much the community has pulled together. Hi-Way 9, Image Crafter Signs and the whole community has pulled tighter and made it bigger," said James. "Now that these decals are being placed on these trailers province-wide, we are trying to get our name out as far as we can."
Shannon Wade of Hi-Way 9 said it is important for the company to show this kind of support.
"We have been in the community for 50 years and appreciate the support of everyone in Drumheller and province-wide, community is what makes things go around," Wade said. "With the support of everybody, it makes us happy to do what we can, and to put a decal on a trailer, if that works, perfect."
Hi-Way 9 has regular routes throughout the province as well as some into British Columbia. While locals may see the decals, they will also be on major routes such as the Queen Elizabeth Highway corridor, as well as Grande Prairie and south to Medicine Hat and Lethbridge.
James said it is tough to tell how well the campaign is going.
"They have really tight confidentiality going on with that so they don't tell us a lot, all we can do is keep up our prayers and get our word out there," he said.
His wife Tanya Vogel said, "Unless the person has come forward and spoke to us privately we have no idea. We have been told his case has been very active with people getting our information and wanting to donate, but we haven't got any phone calls on what comes next."
For more information on how to donate, call 403-334-5800.