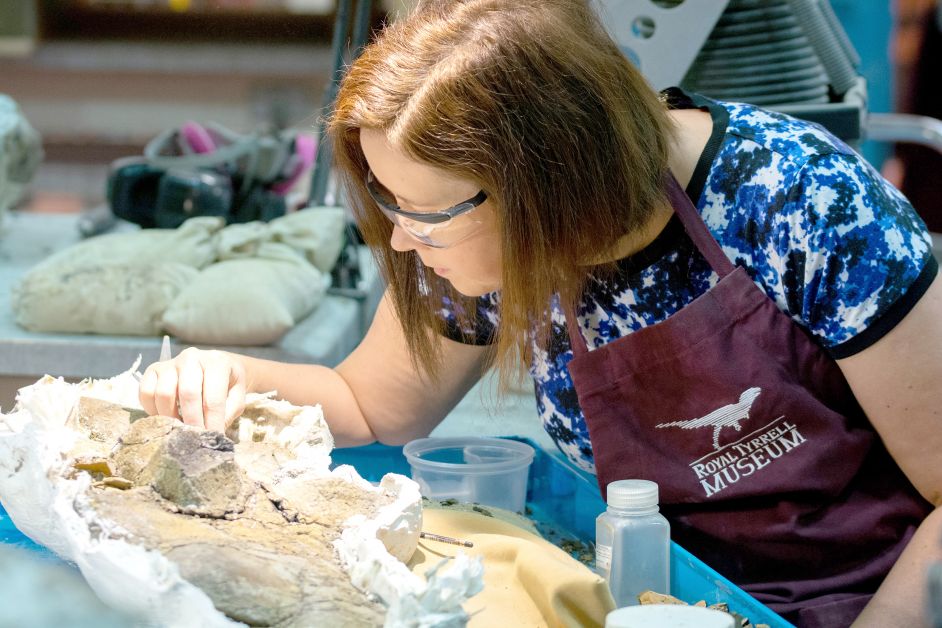 Two skulls are among the specimens brought back to the Royal Tyrrell Museum this autumn as field work is wrapping up for the season.
An Edmontosaurus skull was found in the Drumheller area after a tip from a member of the public, and technicians at the museum will be working on preparing it over the winter. Tyrrell head of preparation Lorna O'Brien says while these types of skulls are a common find, this one is exciting for their researchers.
"Most of the good skulls have, historically, already been collected. We haven't had a good Edmontosaurus skull at the museum before," she says.
While they were in the field preparing the find, staff ended up finding a partial anchiceratops skull as well. Sometimes the crew will take their lunch breaks to go prospecting in the area, and in this case they stumbled onto the find.
"There are very few skulls in the first place, so having that is scientifically important, so that's exciting for us. Skulls generally have the features that are scientifically important, especially with the anchiceratops, as they are horned dinosaurs and their ornamentation on the frills is something researchers get excited about," O'Brien says.
When thinking about palaeontologists working, most people imagine them out in the field, digging in the dirt and chipping away at their finds. But much of the work is done in the Tyrrell's labs, after specimens are either carried by hand out of the field or via helicopter when the location is too remote.
While researchers may get a lot of the glory when it comes to new and exciting finds from the field, O'Brien says it's the technician who lays eyes on these specimens for the first time in tens of millions of years.
"Our techs are the first people ever who get to see that material – when we talk about new dinosaurs or new species, it's the technician who actually got to see it first. They're the ones saying 'this looks weird, this looks different,' and they'll contact the researcher and say there might be something new here."
"Often, they are also the ones who are boots on the ground, out in the field, and they get to see the entire process, from finding it, collecting it, and preparing it then having it on display. It's always something different."