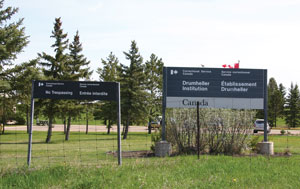 The opioid crisis continues to grip the province as a correctional officer union rep says nearly 40 grams of carfentanyl was seized last month.
In the first half of 2018, 355 Albertans have died from accidental overdoses, and hundreds more have been brought back from the brink through the administration of an antidote.
One place locally where Drumheller residents see the effect of the crisis is at the Drumheller Institution. Last month officers were able to seize nearly 40 grams of carfentanyl.
"That is basically enough to kill a city," said James Bloomfield, regional president of the Union of Canadian Correctional Officers. "That amount is insane. Carfentanyl is the evil brother of fentanyl."
Bloomfield says what is happening in the Drumheller Institution is reflective of the rest of the province.
"We still have an issue at the site, not as much resulting in death, that's for sure," he said. "The officers, I don't know how they have been able to save everything they have."
He says there have been 23 overdoses in 2018 that officers believe were related directly to fentanyl.
"We are in the position that an overdose is not an abnormal occurrence at that site. The overdoses are from snorting that stuff, it is not from injecting," he said. "The government is trying to start a needle exchange program inside, it is insane, and has nothing to do with any of the drugs we are dealing with right now."
He says this year there have been 11 pieces of mail that have been seized and tested positive for the drug.
"It can be a tiny amount of powder. It can be mixed, it can be unmixed. There are so many different varieties. Inside of a prison system, you have to be aware. First of all, they are mixing it so it is going to be exaggerated compared to the street. They automatically cut it to get it inside, and once it is inside they have to cut it some more. It is problematic because it is not only fentanyl or carfentanyl, it is also the mixture of things they put into it," he explains.
He says officers have access to emergency medications which block the effects of opioids, such as Narcan or Naloxone, and are trained to administer it. He says often they are administering three or four doses to keep the patient going until they can get medical attention.
"We are having very significant overdoses on a fairly regular basis out of Drumheller specifically, and the recent seizure, it's not slowing down. It is just a matter of time until we have another mass overdose. Unfortunately the pressure it puts on the officers is tremendous," he said.
He adds there is not 24-hour healthcare facilities at the institution.
"We are the paramedics, we are the firefighters, we are the police officers behind those walls. Not to take away anything from those jobs or individuals, but we deal with every aspect of that," he said.
He credits the officers for their dedication that have saved lives.
"I truly believe it is because of individuals who work on the site, that the attempted numbers are as low as they are. Deaths have been very, very rare at that site," he said.