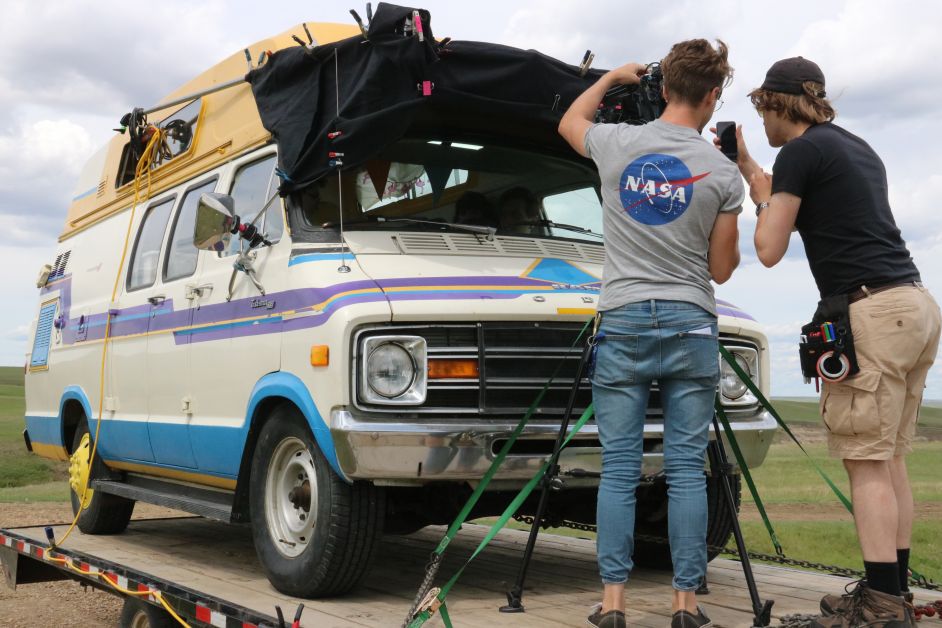 An Alberta production company was shooting the web-based TV series Abracadavers at a farm near East Coulee this week, adding to the growing list of film and media productions featuring the landscape of the Drumheller region.
Crews were out at the farm from Monday to Wednesday filming for the comedic sci-fi series based around a young man named Chris whose mom dies in a freak salon chair accident. Ever since her death, Chris attaches responsibility for her death on the chair but eventually comes to realize the salon chair gives those close to it super powers. Trying to get his mind off his mother's death, Chris' friends force him to take a road trip where they come to learn that dealing with superhuman abilities is sometimes easier to grapple with than what happens in our minds.
Lead actor Griffon Cork describes the series as having a 'surrealist-retro' style with an ambiguous time period but he said that the show's road trip premise allows them to explore different areas all over Alberta.
"We find Calgary is more known to be the centre of the local film industry but showing all the nooks and crannies all over Alberta was one of our goals in making a road trip series," Cork said. "The support from the community for letting us be here is amazing."
"It's a great economic development tool for us and it's fantastic to have film crews here, said town economic development officer Julia Fielding. There have been three productions shot in Drumheller with a couple more scheduled for later this year.
The all-Alberta production team began shooting in May and produced a pilot video which was shown at the Banff World Media Festival where it garnered local and international interest. The TELUS Storyhive organization has financially supported parts of the project. The episodes will be available on TELUS Optik TV On Demand and streamed online at the end of the summer. For more information and to watch the pilot episode visit www.abracadavers.tv.