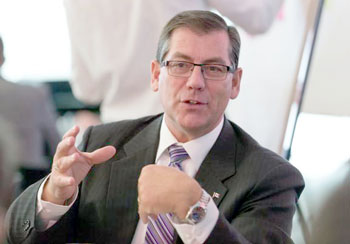 Two years after the launch of the Federal Government Phoenix Payroll System, employees continue gambling to see if they will be able to make their payments on time.
The program was intended to streamline and centralize payroll for the federal government to manage, but has since turned into a never-ending nightmare for its employees.
Union of Canadian Correctional Officers local president Jake Suezle explained the hardships and difficulties staff at the Drumheller Institution have endured over the last two years since the program began operations back in February 2016.
"The system hasn't performed as anticipated," said Suezle. "It hasn't been as effective is an understatement. People are bumped off it or added to it at a seemingly random pace. A lot of our pay is done through supplementary pay, shift differentials, overtime and things like that. It appears one of the biggest obstacles the system has to tackle are those factors that are considered in pay that are outside the standard 40 hour week."
Anyone that gets a promotion or moves to a different position of the correctional facility has a coding change which in turn triggers the payroll system as well. This has caused reluctance to change positions in fear of altering the system.
"The results have been all over the place from receiving no pay to portional pay to incorrect rates and it seems to be a roll of the dice every two weeks as to whether or not you are going to get paid," said Suezle.
Suezle told The Mail it is understandable to expect issues when a system is first launched but when the problems have spanned over two years it has become a larger problem 'with no end in sight.'
"That's where things start to get quite frustrating and discouraging. It's not a 'bear with us for a couple weeks', it's not a 'bear with us for a month', it's a 'welcome to a new reality,'" said Suezle.
"I really feel for a lot of the junior officers who come in. They are starting a career. They are looking at vehicles, loans or mortgages and unfortunately a lot of them don't qualify for these because they can't produce consistent pay which is one of the points of getting a job with the federal government," he said.
Battle River-Crowfoot MP Kevin Sorenson will be hosting an open house in Drumheller at Town Hall upstairs on 224 Center Street, between 10:00 a.m. and noon on Monday, May 14.
He encourages anyone to attend to discuss the current payroll system as well as other topics like high gas prices, immigration, or the new firearms legislation. Sorenson has plans to return later on in the year as he is aware that farmers are now in the fields seeding.
"We will touch on all these kinds of things and then open it up for questions. If people want to meet with me, off to the side for a couple of minutes, we can do that and follow up on it later," said Sorenson.
A pay centre has been set up by the government to alleviate some of these payroll problems. Emergency salary advances and priority payments are available for anyone missing pay or experiencing hardship as well. Monthly updates to employees through a dashboard and pay bulletin on the Canadian government website have been created to ensure ongoing transparency and accountability.
"It's hard to really know what they have in mind, but I do know it's unacceptable and people aren't getting paid. It is just the worst kind of administrative problem you can expect and if you don't have a public service that is confident in the system, it causes grief," said Sorenson.
Suezle attests to Sorenson's help in dealing with the payroll demise since the beginning.
"He has been the single best asset that we have had throughout this. Our institution management team have been very supportive but their ability to help with this is limited, to say the least. I don't exactly know what Mr. Sorenson's resources are with this but suffice to say he has been extremely helpful," said Suezle.
"We will do everything we can to see some solution here," said Sorenson.