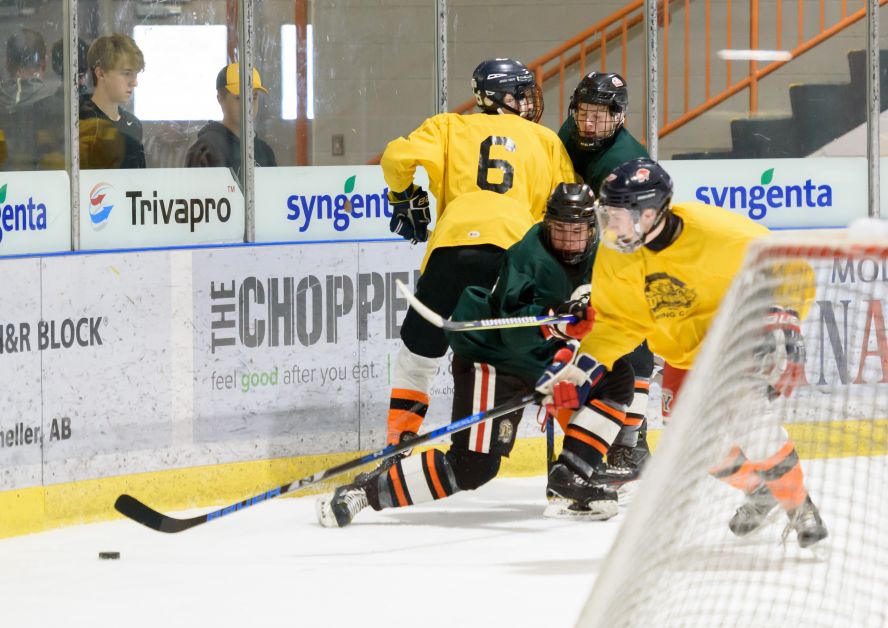 The Drumheller Dragons held their annual Prospect Showcase Weekend at the Drumheller Memorial Arena from Friday, April 6 to Sunday, April 8.
The camp allows players and coaching staff to get familiar with each other while also giving skaters the opportunity to feature their best talents.
"The camp was amazing," began Dragons head coach Kevin Hasselberg. "We got a tremendous contribution from our scouting staff for identifying and bringing in quality players that are quality people. They performed and we performed and I think the impression that was left both ways from the players' perspective attending our camp and from our perspective showcasing Drumheller Dragons, it really cemented what we want our culture to be moving forward."
Day 1 consisted of Bantam and Junior skill sessions. The schedule on Day 2 was booked full of games, each running an hour where attendees were divided into teams. A few more games were fulfilled on Day 3 while scouting staff simultaneously performed interviews with potential players.
Many arrived from parts of Alberta and Saskatchewan as well as five players from the United States. Some travelled from as far away as the Eastern Seaboard to witness the Valley and how the AJHL team operates.
"We are going to continue through the process of recruiting to make sure that all the information is available to those families as they make those decisions on their sons futures and that extends to the returning players to the recruited players," explained Hasselberg. "It's just going to put more emphasis on what we want to build in Drumheller and the identity that we want to carry forward for our players and our organization. It's obviously something the community will be proud of and something that will allow our players to leave their jersey in a better place."
Hasselberg felt fortunate to have spent the season in Drumheller.
"The appreciation and gratitude extended to our fans, our supporters, our sponsors, and anybody that contributes to the success of Drumheller Dragons hockey. The volunteers, billets, and on behalf of the management committee and our entire staff and the players, we thank you and can't wait to perform for everyone again next season and with a goal in mind to be better than we were before," said Hasselberg.