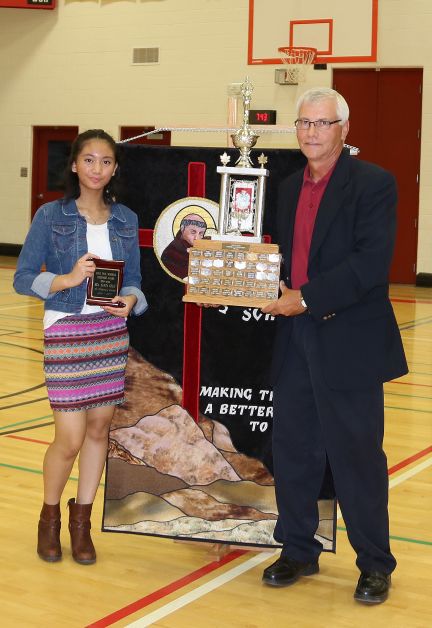 Bea Santa Cruz was presented with the highest honour bestowed by St. Anthony's School, the Adele Dyck Memorial Award.
This award is presented to a Grade 8 student at the school who has demonstrated outstanding citizenship. Santa Cruz was nominated for the award by her peers.
Adele Dyck, daughter of Henry and Yola was a grade 8 Student at St. Anthony's School. On September 27, 1974, she was on her way home from a friend's home when she was struck by a car on Highway 10.
Her brother Rod Dyck was on hand to present the award.
"This award is a tribute to the way Adele lived," said Rod.
Rod recalls it was a Friday night. Adele came home, had dinner, and then went to a friend's home for a couple hours. She was hit from behind on her way home.
"The lives of her friends, teachers, classmates, and family were changed forever from that moment on," said Rod. "None of us thought we would never see her alive again earlier that day."
He said she was less than a half block from her home.
The only clue from that evening is investigators believe it was a red car. It was a stormy night and police believe the driver may have never known they had struck someone. The driver has never been discovered.
After four decades, Rod remembers his younger sister well.
"She liked school, worked hard to get decent grades, she always did her homework and worked on improving her marks," said Rod. "As her big brother, it would drive me nuts because I did just enough to get by… she knew the value of education at a young age, and I think she would have become a teacher if she had a chance."
In 1975, the first-ever Adele Dyck award was presented. It is the school's oldest and most prestigious award. Each year it is presented to a Grade 8 student. The candidates are assessed on scholarship, friendliness, participation in school and community, co-operation, judgment, industry, sense of fair play and character.
"It is not all about academics. The kind of person you are is equally important and that will be the legacy you are remembered for most in life. That is what this award is about," said Rod.
What makes the award unique is that the students select the winner. While teachers have the authority to veto any of the award winners, this has never happened in the history of the award.