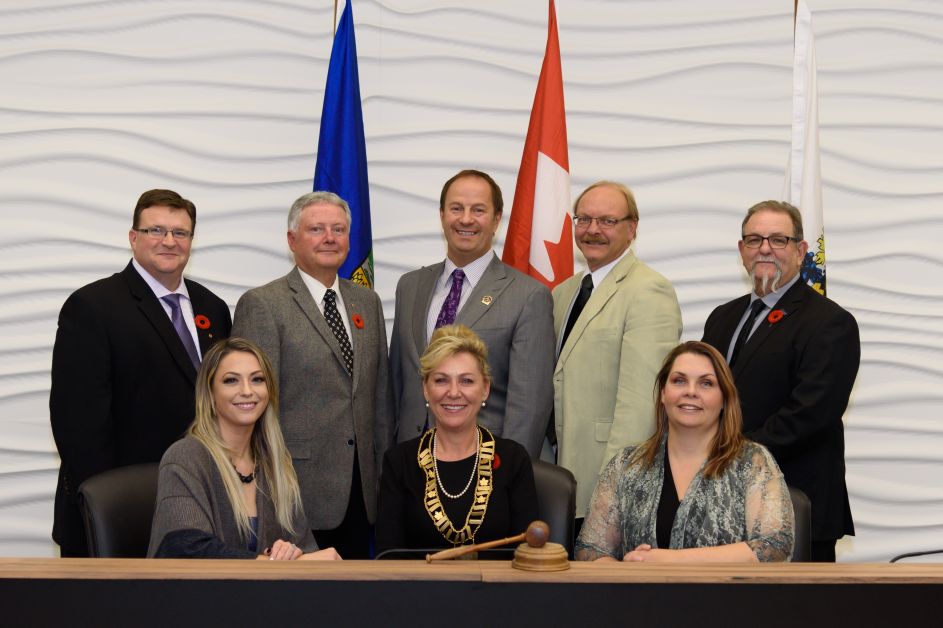 On Monday, October 30, the annual organizational meeting of Drumheller Town Council was held in Council Chambers where the new council were sworn into service.
Mayor elect Heather Colberg is glad to spearhead a new chapter for Drumheller with a promising council.
Mr. Colin Kloot swore in Mayor Heather Colberg as well as councillors Kristyne DeMott, Jay Garbutt, Lisa Hansen-Zacharuk, Tony Lacher, Fred Makowecki, and Tom Zariski.
Once everyone was sworn in, outgoing Mayor Yemen passed the chain of office to incoming Mayor Heather Colberg as a symbol of mayorship.
Colberg began addressing the new council in her first official speech as Mayor.
"I'm so excited to be working with the six of you," Colberg said. "I know that we are going to do some great things and I'm so proud of all of you. We've got experience, we've got youth, we've got finance, we've got community. We are just very well rounded so I'm so looking forward to working with you."
Some of her other opening remarks were focused on her new leadership of the town with a nod to those leaving as well.
"I just want to tell all the councillors and Terry [Yemen] that I 100 per cent respect you with what you guys have done and what you have gone through," said Colberg.
A seating change was arranged. Councillors were placed on one side of the room and administration on the other. Colberg explained that it allowed for better communication and gave a more open feel.
"Well, we talked about it and we thought that this way, if we open up a bit, it shows that we want to be more open as far as people being able to hear conversations," said Colberg. "I decided to switch seating with contact with the rest of council that it's easier to talk with council when we're not trying to turn sideways."
Council will be participating in a strategic planning meeting to figure out where everyone stands as to what direction they want the town to take during their time on council.
"We want to make sure we are prioritizing everything and doing the right thing for the people," Colberg stated.
The next Council of the Whole (COW) Meeting will be on Monday, November 6 and the next regular council meeting will be Tuesday, November 14.