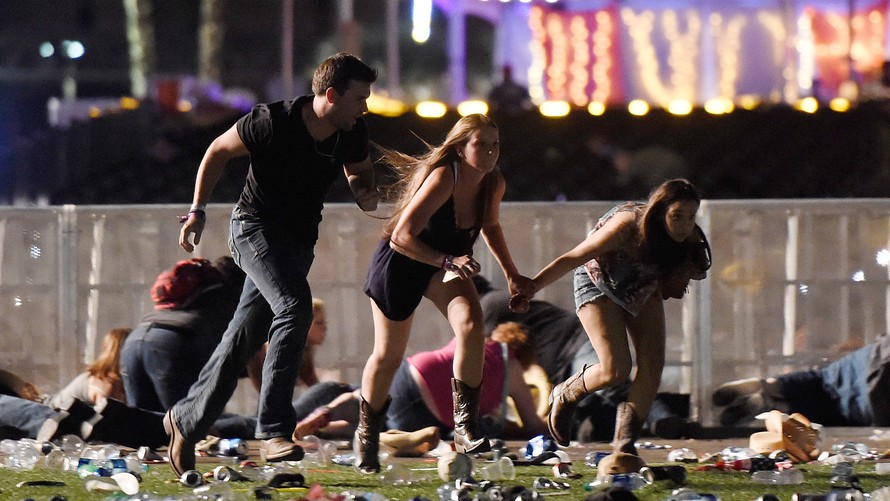 "Man, we were sitting ducks."
On October 1, Stephen Paddock, 65, opened fire into a crowd of over 22,000 concertgoers, ultimately killing 58 people and injuring another 546 from his 32nd-floor hotel room.
The Route 91 Harvest Music Festival mass shooting has caused uproar but also a sense of closeness and empathy.

For Darrell Kohut, the music festival was a last minute decision to see country artist Jason Aldean live.

Traditionally in the fall, he and his family would book a trip to Las Vegas for the festival but with the birth of Kohut's granddaughter, his son was unsure about going.

"By the time he decided, the show was sold out and we had canceled our family trip to the concert," said Kohut. "I can't express today how lucky and fortunate we were that Scott couldn't decide soon enough."

Kohut rode down to Las Vegas on his motorcycle. His brother John used to ride alongside him until he passed away in 2016.

"With the passing of my brother John in 2016, I was unsure whether I was going to do this as he was my riding buddy there and I was not sure if it served a purpose to continue this tradition," said Kohut.

Family and friends convinced Kohut to go. He then made a three-day trek to sin city.

When he reached Las Vegas, he first tried to book a hotel room at the Tropicana Las Vegas Casino Resort as it was adjacent to the festival. After he discovered it was full, he went to his phone to search for another hotel.

"As fate would have it I booked a room online at Mandalay Bay Resort," continued Kohut. "After going to my room I let my wife and daughter know what I was doing and they were extremely jealous."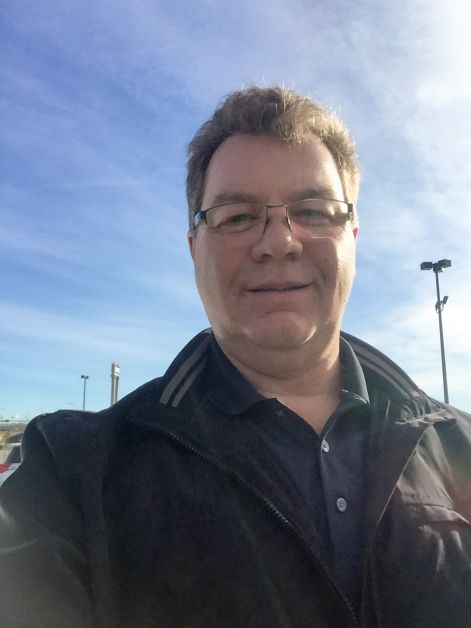 Image of Darrell Kohut - Submitted
He entered the grounds at approximately 6:00 p.m. to a crowd full of happy people.

"Everything was normal in the park; music, drinks, and tons of people enjoying the sun and fun. I was able to see Big and Rich, Jake Owen and of course was there to see Jason close."

Jason Aldean's performance began at 9:40 p.m. he played roughly 4 songs before gunfire erupted.

"I had worked my way to within approximately 40 feet of the stage so I could watch," said Kohut.

Many believed the sound of the shots was simply a firecracker being thrown from the west side of the stage. At first, no one did anything as the band continued on. A second round of bullets rained down on the crowd before everyone fled the scene.

"The lady that I let stand in front of me had placed her sunglasses in the front of her shirt hanging down. She turned to me and said 'What was that about?'. I said 'pardon?' at which point she brought out her glasses and the left side lens was gone and shattered. She wasn't hit and at that point everyone was dropping to the ground," said Kohut.

A group of young girls were squatted on the ground beside him, screaming "What do we do?" Kohut advised them to stay low and don't move since he thought the incident could have been a drive-by.

When the rounds ceased for a second time, people started running causing Kohut to get trampled on. A third round quickly followed the second so people fell on top of others. After the third round, Kohut got up and ran.

"As I was running there were more shots so I took shelter behind a Budweiser beer trailer. With the position we were in, we had the long way around to get out of there," described Kohut. "There was a group of people there along with a young girl who was shot but alive and people had covered her with their shirts and made a pillow to comfort her."

A fireman was able to get to them and helped create an escape behind the concrete fence that borders the grounds. It was there that he tried to reach out to his family to let them know he was alright.

"I sat there and tried to make sense of what happened, seeing people that were injured, people that were shot dead and the tears, screams, and sirens that kept going on. I looked at my arms and they were covered in blood and didn't know where from."

To make matters worse, people were fleeing the Tropicana as Kohut was looking for a washroom to clean up. They claimed a gunman was in the casino which turned out to be false.

"We sat behind a transformer wall for a bit until an officer directed us to proceed to the front of the Hooters Casino where they had secured the building and set up a triage area as well."

Once inside, Kohut purchased a phone charger to remain in contact with family and friends.

"The Casino was very first class in allowing us to stay there. They immediately brought out water, coffee, and snacks as well as sheets for people to lay on as there were people all over and many trying to sleep. I tried to sleep but couldn't so I spent the night talking with my new California friends."

At 7:00 a.m. on October 2, the group was told that they could now leave. After a brief time at the MGM Grand, Mandalay Bay was opened back up to hotel guests. The Las Vegas strip had closed due to the shooting so Kohut set out on foot to retrieve his things.

"Now walking down the strip with zero traffic was eerie enough as I've never seen that before. As we approached Mandalay, we saw windows that were broken out long before the media were able to. I stood and looked, as well as referenced it to where I was across the street. I then thought 'man we were sitting ducks.'

In my room, I returned calls, called friends and family and pondered the view of the grounds from my room as well as the shooter's window as it was above mine and to my left.

Westjet accommodated a special trip for survivors of the attack allowing Kohut to get home earlier than Tuesday.

"I returned home Monday at midnight and since then with the help of family and friends I have been piecing things back together. I wasn't able to watch any of the news until the following weekend and never looked at the people that were killed until Thanksgiving Monday."
Top Photo: Getty Images
Middle Photo: Darryl Kohut (submitted)