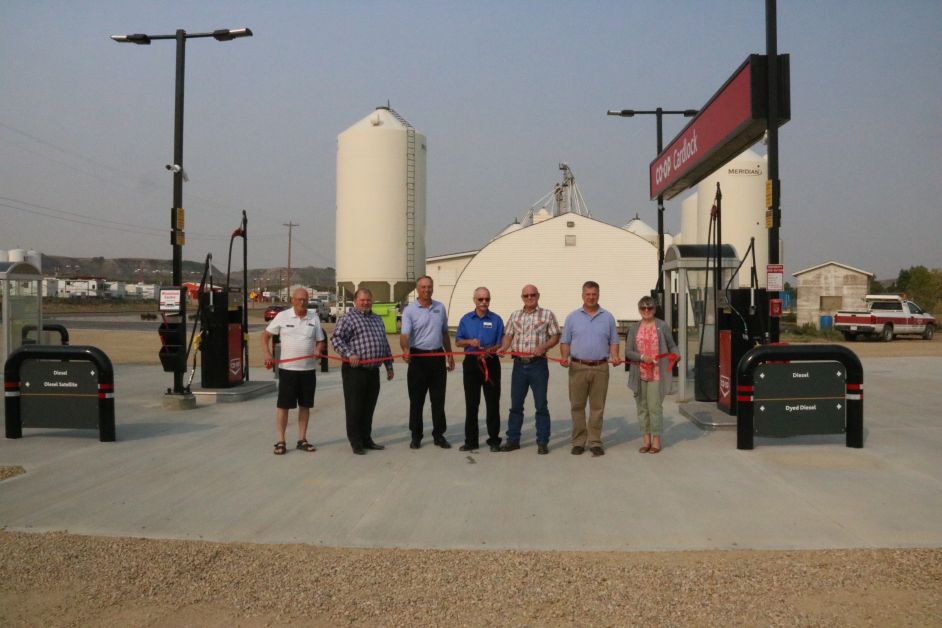 After a busy summer, the Drumheller Co-op Cardlock was officially opened for members to use.

The Co-op held a grand opening for the facility on Railway Avenue on Thursday, August 31. The project has been on the Co-op's drawing board for years as the site was in need of an upgrade.

The renovation includes new tanks, pumps, infrastructure and increased capacity.

Today there are seven pumps for patrons to use. The site has had a complete overhaul including new underground tanks, new signage, larger lanes and space to maneuver.

The previous cardlock was installed in 1997. The renovation will bring the card lock up to modern standards and codes.

On hand to celebrate the grand opening were members of the Drumheller Co-op board, as well as Joe Bowhay, a District Director for Federated Co-op as well as Mayor Terry Yemen.

They celebrated the day with a free barbecue for residents and patrons.
Pictured above: At the ceremony are (l-r) Director Barry Fullerton, General Manager Brent Walker, Federated Co-op District Director Joe Bowhay, Co-op Board President Eric Poettcker, Mayor Terry Yemen, Chamber President Brock Harrington and Director Kathy Little.
(mailphoto by Patrick Kolafa)