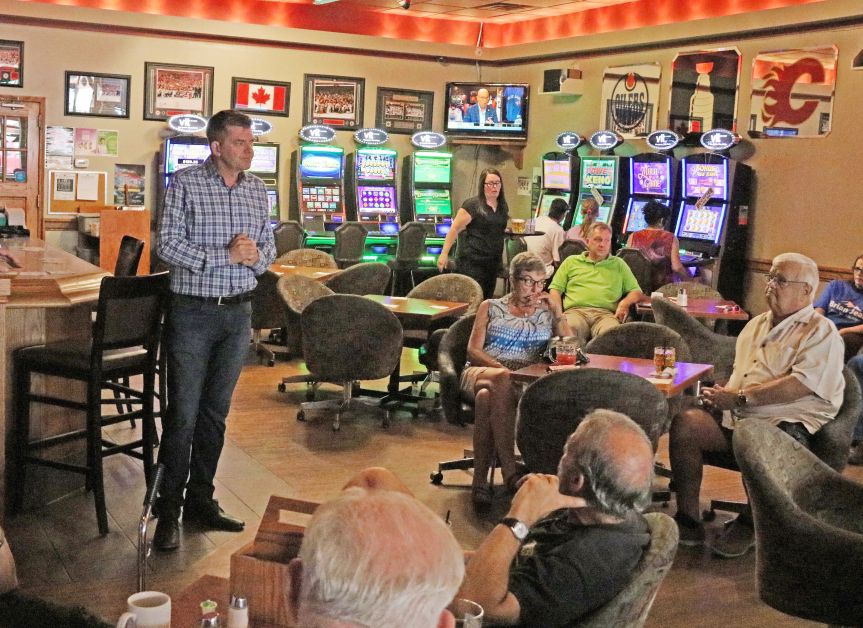 While the nomination period for the leadership of the United Conservative Party is well a week away, the campaign is in full swing as Brian Jean made a stop in the valley last week.
The former Wildrose Party leader was on a tour through East Central Alberta and dropped into the Yavis Family Restaurant to meet with residents on Wednesday, August 30.
"The campaign is doing really well, I am seeing people all over the province and the reception has been excellent," said Jean.
Membership sales to vote are on sale until September 29 and Jean has been focusing on that as he moves forward.
"With a membership, not only do you get to decide who the next leader of the party is and the next leader of the province, but more importantly you get to decide on the policy of this new party and ultimately the policy for the government of Alberta," he said.
He says his experience differentiates him from the other leadership hopefuls. He has run over a dozen successful businesses and also practiced law prior to becoming an MP federally, and then entering into provincial politics.
"There is no one in the race as far as I am concerned that has as much experience politically or in law or business," said Jean.
He said Albertans are looking for a leader.
"Right now Albertans are looking for someone to unite them, somebody to bring them together, and someone who has a common purpose and strong vision on where they want to take Alberta, a better Alberta than it is currently under the NDP. I believe that I am that person, I am a uniter, I pull people together, I empower them, I encourage them," he said.

It has been a lively campaign period, with Derek Fildebrandt, a vocal Jason Kenney supporter, resigning after it was learned he was renting out his government subsidized Edmonton home. This week Jean has been fielding questions about overspending in the Wildrose Caucus budget.
Jean hopes the spirit of the campaign doesn't damage the brand of the party.
"We have worked so hard to unite Albertans, to unite the PC Party with the Wildrose Party and to maintain a 95 per cent vote in each area has not been an easy thing to do. My concern is to stay united, I will not be getting into the mud, and I will not be throwing it. I hope that other candidates recognize the long term negative ramifications of doing so, take a step back and recognize the greater good of the party and for Alberta to stay above the fray."
Along with Jean and Kenny, Calgary lawyer Doug Schweitzer and former Wildrose president Jeff Callaway are also in the running.
Members of the UCP go to the polls to select a leader on Saturday, October 28.