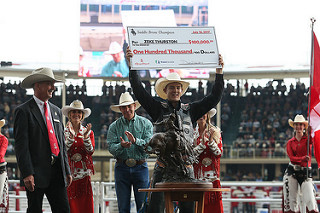 Big Valley star Zeke Thurston claims his third top win for saddle bronc from the Calgary Stampede on Sunday, July 16.
With an outstanding score of 90 points on Timely Delivery during the opening round on Sunday, Zeke was able to rise above in the final four.
On his final ride of the day in the final four, Thurston rode the famous Northcott Macza horse 'Get Smart', netting him the $100,000 win.
"Every jump I thought I was going to get bucked off," puffed Thurston, moments after his thrilling 92 point ride. "That horse bucks so hard. He's probably only 800 pounds, but that's one of the strongest horses I've ever been on."
A cowboy is only as good as the horse underneath him.
"Honestly, that horse could buck you off any day of the week. I was just lucky to stay on."
Following the three-peat trend, this is not the first nor the last time Zeke and Get Smart have encountered each other. Ironically enough, the two horses and the Big Valley local worked together to win the Ponoka Stampede two weeks ago and plan to see each other again next weekend.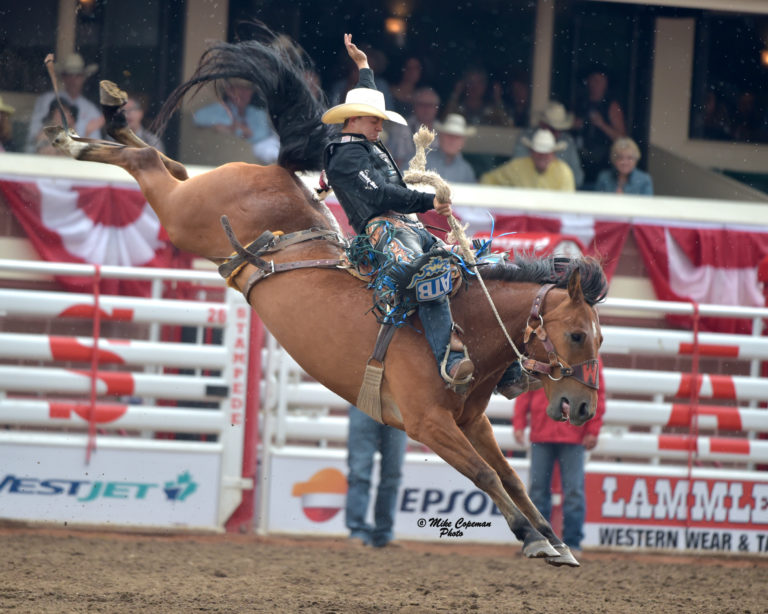 Zeke's championship score was just a half point higher than the 91.5 turned in by his friend Layton Green on Wild Cherry moments before.
"That was pretty special to be riding against your buddy that you've known since you were eight years old," insisted Zeke. "We grew up riding steers together, came up through high school rodeo, learned to ride broncs together, and now to be competing against him at Calgary, it's pretty cool. He made an awesome ride. I knew I was going to have to do something to set myself apart. Turns out I had the buckier horse, was all."
Zeke, who just turned 23 on Saturday, hasn't thought too much yet about making his mark in history as the first saddle bronc rider to notch three consecutive wins with the $100,000 paydays attached.
"That's crazy to me. You know, a lot of guys will go their whole careers and maybe never win this rodeo and to win it three years in a row, that's unbelievable," Zeke explained.
Family, especially Zeke's mother Lynda, was beyond proud to watch her own blood make history.
"It feels pretty exciting, it actually took a little longer this time to sink in I think," Lynda laughed. "It was a pretty great round of bronc riding. It was awesome to watch four outstanding horses and four good cowboys and yeah, it was close but I'm really proud of the ride that Zeke made. It was a heck of a ride."
Thurston's takehome from Stampede was $110,000, with the cash he won earlier in the week; while Green gets the $25,000 bonus to go with his earlier $13,000 take.
Taking the third place bonus of $15,000 for a 90 point ride on Stampede Warrior was Taos Muncy. Sterling Crawley also received a $10,000 bonus for his 89 point ride on Magic Carpet in the Showdown round.