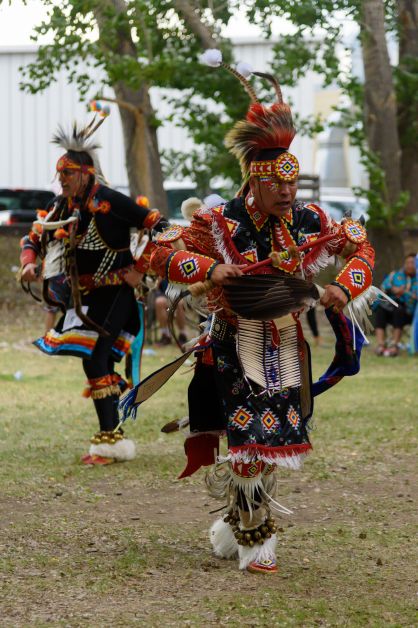 Competitors at the Canada Day Drumheller powwow show off their skills in the hopes of providing knowledge on the culture as well as attain sweet prizes, on July 1, 2017.
mailphoto by Terri Huxley
The Drumheller Heritage, Arts & Culture Committee have opened up the floodgates or in this case second year of Arts and Culture grants. Individuals or groups can apply for up to $1,000 in funds for their event or activity.
"These grants are to encourage arts and culture in Drumheller," said Darren Goldthorpe, Manager of Recreation, Arts & Culture. "We have some talented artists and cultural experiences in the area and we want to support them in their projects."
The Heritage, Arts and Culture committee is made up of elected officials, members of the administration team at the Town and volunteer members of the public. The committee is also responsible for the heritage building designation, as well as the Canada 150 funds for this year.
Last year, local groups were eager to utilize the new grant.
"Last year, the Heritage, Arts & Culture committee supported the Drumheller Library in hosting their Cosmicon, the East Coulee School Museum in their Miss Morrison program, as well as the Powwow which was held on Canada Day," said Rhian Russell, Chair of the Arts & Culture committee. "I am looking forward to see the projects planned this year."
The funds currently stand at $5,000 but if anyone in the community who would like to support the grant by donating money, the committee would be elated to be in contact.
The application form is available on the Town of Drumheller website at: dinosaurvalley.com/heritage-arts-and- culture grants or from Judy Quintin-Arvidson at jarvidson@dinosaurvalley.com or by calling 403-823-1324.