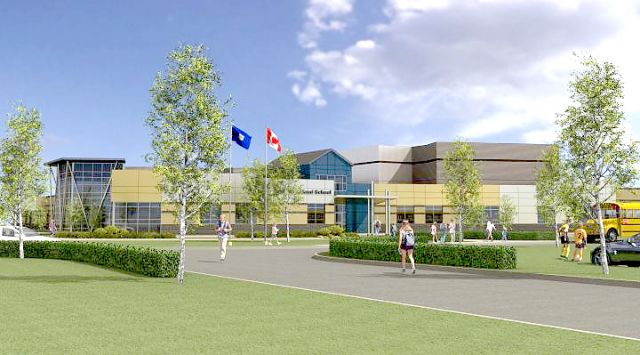 The new Wheatland Crossing School, slated to open this fall, is looking at better ways to deliver programs to students.
Construction has progressed on the school over the year, creating a school for the East Wheatland area, near communities including Hussar, Standard, Gleichen, Rockyford and Rosebud.
"It still looks like we will be ready for students in September," said Golden Hills School Division superintendent Dr. Bevan Daverne.
He is excited about the possibilities of a new school.
"We recognize that parents and students want a very good academic education, they want a well rounded education and they also want opportunities to explore passions," said Daverne.
He says while parents and students want rigorous academics at the school, they are also looking at the programs that fit the community.
"We have a unique opportunity with this school because it is in a rural setting," he said.
"One of the focuses is agriculture and agricultural programming. Partnerships in the agricultural world, and then we are looking at ways to bring some of that programming right on the site. We have had some interests from different organizations for support of a greenhouse program and others as well."
The school has partnerships with Rosebud School of the Arts, which will have a positive impact in the school and has a space for a black box theatre in the school.
"We are looking at all kinds of programs and are hearing back from parents that we think are all important things that are part of a 20th century education. We want to prepare kids for the academic world, the 21st century world and potential careers in agriculture, for which there is a wide range of them that includes running a farm, but goes far beyond that too," said Daverne.
Bricks and mortar do matter.
"Many of our buildings are older and over time our programming has changed, and the building doesn't always support what we are doing today. Having a building that has been custom designed and tailored to what we need today in this community is very exciting," said Daverne. "To see this come to fruition, be ready for opening, and to have the opportunity for this Wheatland Crossing School, that brings all of these communities together and offers programming we haven't been able to offer previously… is very positive."
"It appears that families are looking forward to the new facility.
"Since the decision was made to consolidate the school, our enrollment in those four schools in anticipation of the new school, has gone up 15 per cent. We have seen our school populations growing in East Wheatland and that is in stark contrast to the previous decade where there was lots of decline."
Golden Hills School Division is hosting public meetings May 24 and 25.
"Part of it is to update and inform our students and parents and many other stakeholders on the transitions and timelines. We'll talk a little about programming, construction, timelines, moving and other transition plans, and bussing transportation.