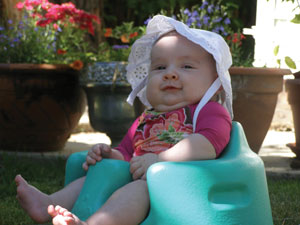 Friends of a Drumheller family are banding together to help them in their time of need.
A barbecue and silent auction fundraisers have been planned to support the Walsh family. Wendy and Chris Walsh's lives were turned upside down when they learned their five month old daughter, Opal, was diagnosed with congenital nephrotic syndrome. She will eventually have to receive a kidney transplant.
To support the family, there will be a barbecue at Freson Bros. IGA this Saturday, September 24 and a silent auction reception planned for Sunday, September 25 at the Ramada Inn. So far, the response from the community has been strong.
Toward the end of August, Opal's parents, concerned about their daughter's puffy eyes, took her to the hospital. It appeared Opal had allergies and she was given antihistamines. The symptoms appeared to get better for a couple of days, however conditions worsened and Wendy took her to the Children's Hospital on August 26. They were admitted after testing showed high levels of protein in the baby's urine, a sign of kidney trouble.
The immediate concern for the child was to drain excess water from her body. Medical staff had a very difficult time putting in an IV, and eventually it took a number of surgical procedures before they were able to relieve the symptoms.
The procedures and the drugs used took their toll on the baby. It was a harrowing experience for the family. Today, Opal is still in the Children's Hospital and she has stabilized.
Opal's medical worries are not over. At just five months, she will now have to undergo dialysis until she is big enough to receive a kidney transplant. This may not be possible until she is two or three years of age. The family is hopeful they will be able to use peritoneal dialysis which can be done at home. They are also hopeful that either Chris or Wendy will be able to be donors when the time comes.
"A living donor is the best case scenario, and parents are optimal," said Wendy.
The ordeal has taken a huge emotional toll on the family, but has also hurt them financially. The family operates Westside Windshields, and have had to suspend their business operations to be together and support Opal. They have been at the Children's Hospital for more than two weeks and it is estimated it will be another three weeks before they return home.
Wendy said she is overwhelmed by the support of the community which has stepped up to help the family.
"It is amazing the support Drumheller has given us so far," said Wendy. "That is the beauty of living in a small town, and we see that."
On Friday, September 16, Western Chevrolet hosted a turkey lunch to support the family. They raised about $6,000. The company challenges others in the business community to look at inventive ways to support this family.
Freson Bros. IGA's barbecue will take place in their parking lot on Saturday, September 24 from 11 am - 3 pm. The silent auction is slated for Sunday, September 25 at The Ramada Inn from 2 p.m. to 6 p.m. Food and beverages are being provided by the Ramada. To donate items, or for more information, contact Phil Thomas at 403-856-0065.