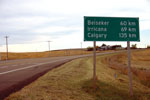 There is no more need for detours whilst driving to Calgary, now that the construction on Highway 9 West has been completed.
Highway 9 used to be in rough shape, riddled with bumps and holes. The stretch from Drumheller to west of where Highway 21 intersects and the stretch east of Highway 21 to Beiseker has been completed by the Alberta Transportation office out of Calgary, with contractor Carmacks Enterprises.
Fred Lee, construction engineer for Alberta Transportation in Calgary, told The Mail, the 22 kilometre stretch cost the province $24 million.
"We are not totally finished, but at least we have pavement down."
"I am pleased that we got to where we are, I just hope we have some decent weather for a couple more weeks," Lee said.
The remaining stretch of Highway 9 to be completed through the Highway 21 intersection, is in the hands of the central office located in Red Deer.
John Umlah, an engineer for Alberta Transportation in Red Deer, said this remaining piece is still in its design stage and there are no final plans as of now.
Priority for now, according to Lee, is to complete the Rosebud bridge on Highway 9 south of Beiseker. Lee hopes to keep working on it, if the budget allows.
Lee also said they have plans to start working on 806 and 575, the highways south and east of Acme, respectively.
The stretch from Beiseker heading south on Highway 9 past Irricana is still under construction, but well underway.