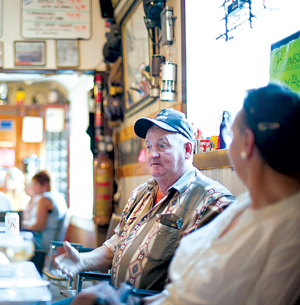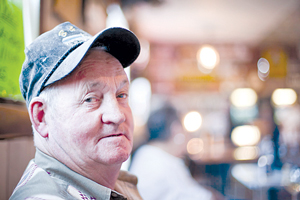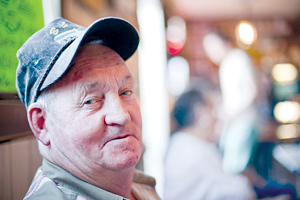 You could call it fate, coincidence, or just good timing, but July 6 brought three people together, resulting in a unique portrayal and story of the late Ed Eskeland, prior to his untimely death a few days later.
    That Wednesday night, your editor was at the Last Chance Saloon in Wayne, and witnessed visitors chatting and taking pictures of bar patrons. Now that is not necessarily unique, as most times there is a lot of that going on, but in this instance, one particular photographer was very professional in his work. We noticed him taking images of Ed and the rest of the table, and Ed seemed unfazed by the gentleman taking the photos.
  The always affable bar owner Fred Dayman introduced us to Lorne Kinsella, who is the manager of Global Marketing Communications, for the Canadian Tourism Commission (CTC). Mr. Kinsella told us that the shoot was part of a project about what there is to see and do in Southern Alberta prior to the Calgary Stampede. We talked about a number of things before parting, agreeing to make contact in the future about his project. Little did we know that three days later, Ed would pass as a result of a single vehicle truck accident near Taylor Siding, south of Drumheller.
  Last week, your editor contacted Mr. Kinsella and related the story just told about Ed Eskeland. Immediately, this spurred a flurry of e-mails and within a few hours, three great images of Ed, albeit his last, appeared on our screen along with this message: "On behalf of the CTC, please extend our sincerest condolences to the Eskeland family for their loss. It is of small consequence but our photo shoot was a success. The images we captured of great Southern Alberta experiences in Drumheller - and the Canadians associated with them - will serve to provide a visual message to the world about how amazing our country truly is. We are grateful that Mr. Eskeland is a part of that message. Perhaps this will be meaningful to his family and friends." Lorne Kinsella.
    A number of CTC staffers expressed regrets about his passing and were eager to share the photos.
    After calling daughter Joanne Hodgson, and a chance meeting with son Jim, and telling them about the whole series of events, they graciously allowed us to share the photos with our readers.
  Maybe this is one of the great things about living in a small town.