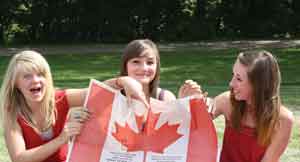 The Canada Day festivities schedule has been announced and once again, a full day of local events with homegrown talent will entertain the hundreds who  flock downtown on July 1.

    Your mother may have told you years ago that a good breakfast is the best way to start the day. She's right and the Drumheller Kinsmen will be serving up a great one at Riverside Value Drug Mart starting at 7 a.m.
    After that, get your spot on the parade route because it begins to wind through town at 10 a.m.  This year's theme is "Celebrating the Valley's Coal Mining Centennial." There is still time to register your float. For more information contact the Drumheller and District Chamber of Commerce at 403-823-8100 or go to www.drumhellerchamber.com to download a registration form.
     The parade is just the beginning of a full day of events. The Drumheller Memorial Arena will be teeming with shoppers at the annual farmers market and there will be a barbecue in support of the Morgan Jayne Project. This won't be the only place to find sustenance, as there is a smoky on a bun barbecue at the Drumheller Co-op in support of the Palliative Care starting at noon and the Rotary Club has its annual beef on a bun at the Freson Bros. IGA.
    The main stage and the site of the afternoon entertainment will be in the shadow of the World's Largest Dinosaur. Because of the construction of the Badlands Community Facility, last year the festivities were moved west to the splash park area. According to Karla Desilets, FCSS coordinator at the Town of Drumheller, the move has worked out well for the celebration.
    "I think it is a natural setting for this type of event, it fits well. I am glad we made the change," she says.
    There will be all kinds of music and activities in the park for the whole family. There will also be a toonie swim at the Drumheller Aquaplex to cool off.
    `One attraction this year that is sure to draw a crowd is the Clinker Cup Celebrity Miner Challenge. The Atlas Coal Mine has helped organizers put together some challenges to test some local celebrity's mining skills. This will start at 12:30 p.m.
    As the music and fun continue through the day, there is one very important event to mark the occasion. That is at 6:30 p.m. where there will be the singing of O' Canada and cutting of Canada's birthday cake.
    The day concludes at about 11 p.m. when fireworks will be launched to light up the valley. These are best viewed from Centennial Park.
    To see the whole schedule go to www.dinosaurvalley.com.