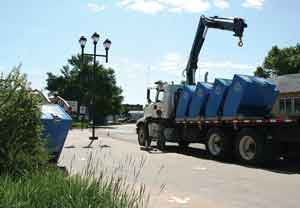 The BACtoBAC program has taken another great leap forward last week as it learned it was successful in its application to receive a grant to expand the new project.

    The project has learned that Encana will contribute $4,200 towards two large capacity bins for the recycling project. They are planning to locate thee bins  centrally, possibly at local recycling stations. 
    BACtoBAC is a simple but powerful program. It is an easy way for residents to recycle their drinking containers while at the same time support local charities. The project kicked off this month, the bottles are collected and sorted, and the funds from bottle deposits are divided among The Salvation Army, The Morgan Jayne Project, the Drumheller and District Humane Society and DARTS.
    On Wednesday, recycling boxes were placed in a number of locations such as the splash park, Freson Bros. IGA, Canadian Tire and World's Largest Dinosaur. These boxes are the same size as the park garbage cans and are handy  for the times you have a bottle in hand, and  have nowhere to put it.
    Late last week it was learned that Encana would grant funding for the larger recycling bins. These larger bins will make it easier  for residents to bring bottles from home and donate them.
    Fred Makowecki of the Morgan Jayne Project says the project has created a simple way for people to give to the charity.
    Lt. Rachel Sheils of The Salvation Army says along with the support to local groups, she is hopeful the project will reduce the number of containers that go into the landfill.