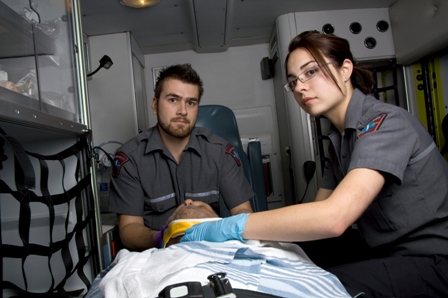 Dear Working Wise:
I was recently laid off from a job with a cabinet manufacturer. The job was OK, but it didn't pay all that well. I need a better-paying job, but I can't go back to school for four years before I can start earning a living again. What are my options? Signed, Quick Career Wanted
Dear Quick:
For some people, spending up to four years studying for a career is not an option. You may not be able to free up the time or want to invest that much time and money in an education.
If you're looking for job-specific training, you may want to investigate training options at Alberta's many colleges and technical institutes. They offer programs that can range in length from four months to one year.
There are also many private vocation schools and colleges that offer short-term training for specific careers.
Earning your Class-one license, for example, can take between four and six weeks depending on your experience. And class-one drivers can earn between $15 and $30 per hour depending on the industry they work in and whether the work is in-town or out-of-town.
Online- and distance-learning courses enable you to maintain employment while upgrading your skills and are also available through many colleges and institutions.
You might also want to consider a career in one of Alberta's 50 registered trades. Registered Apprentices spend about 80 per cent of their time earning a paycheck while they learn on the job. For more information on the wide variety of career options in the trades, check out www.tradesecrets.alberta.ca.
Alberta Occupational Profiles (OCCinfo) is a database of more than 500 careers that you can search by job title, industry, subject and interest. You can also use the database's advanced search by anticipated demand, physical strength required, and required training.
I performed a quick search of careers that require one year or less of post-secondary training and found more than 100 occupations. You can try searching the database yourself at: www.alis.gov.ab.ca/occinfo.
Here are just a few examples of careers that require a year or less of formal training: Accounting Technician; Airline Ticket Agent; Appliance Service Technician; Bartender; Baker; Bus Driver; Bylaw Officer; Canadian Forces Officer; Cardiology Technologist; Carpet Cleaner; Child Care Provider; Courier; Dental Assistant; Embalmer; Emergency Medical Technician/Responder (EMT/EMR); Esthetician; Flight Attendant; Floral Designer; Health Care Aid; Heavy Equipment Operator; Hospital Unit Clerk; Jeweler; Locksmith; Meat Cutter; Medical Lab Assistant; Mortgage Associate; Motorcycle Mechanic; Non-destructive Testing Technician; Pet Groomer; Pharmacy Technician; Security Officer; Shuttle-bus Driver; Truck Driver; and Well Service/Testing Technician.
Check out these quick careers and many others on the OCCinfo database.
For more information on short-term training options:
Visit www.alis.gov.ab.ca;
Call the Alberta Career Information Hotline toll-free at 1-800-661-3753; or
Visit your nearest Labour Market Information Centre (LMIC) and ask to speak to a Career and Employment Consultant. You can find your nearest LMIC by visiting www.employment.alberta.ca/offices
Do you have a work-related question? Send your questions to Working Wise, at charles.strachey@gov.ab.ca. Charles Strachey is a regional manager with Alberta Employment and Immigration. This column is provided for general information.