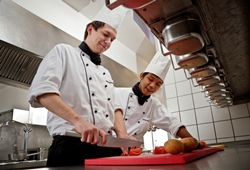 Dear Working Wise:
My 16-year-old-son just started working part-time in the lumber yard at a local hardware store and I'm a little worried about how safe he is at work. There are trucks and forklifts moving heavy loads all the time in there. Do you have any tips to help him stay safe? Signed, Worried
Dear Worried:
You are right to be concerned. Young workers, aged 15-24, are more likely to be injured at work than more experienced workers.
No job is worth losing a finger, an eye or a life. One thing you can do is ask your son questions that will give you a better idea if he's safe at work. These questions might also get him thinking about safety at work:
- What tasks do you perform?
- Do you work with chemicals?
- Did you get any safety training?
- Are you tired at work or school?
- Do you lift and carry heavy objects?
- Does your supervisor work near you?
- Do you know the hazards of your job?
- Do you have to climb or work at heights?
- Do you know you should report any injury that happens at work?
- Do you use protective equipment and were you trained to use it properly?
- Would you feel comfortable telling your supervisor about a safety concern?
- Does your supervisor notice and correct you when you are not working safely?
- Do you know your rights and responsibilities for a safe and healthy workplace?
Worker Rights and Responsibilities:
- Right to know the hazards of your job and how to prevent injuries;
- Right and responsibility to refuse unsafe work;
- Responsibility to follow safety procedures, ask for training, and use personal protective equipment;
- Responsibility to report safety hazards and injuries immediately to your supervisor.
Employer Responsibilities
Employers must do everything reasonably possible to protect workers from injury or illness. The employer must ensure that workers have the training and equipment they need to protect themselves. Employers must also adhere to the minimum age requirements for working in Alberta.
Minimum Age Requirements
Minimum Age Requirements help keep younger workers safe by limiting their exposure to hazards like hot grills, sharp knives, large moving equipment, etc. The limits vary by age. You can learn more by reading Your Child At Work at http://www.whs.gov.ab.ca.
You can help your son stay safe at work by encouraging him to ask his supervisor about the hazards of his job and teaching him how to appropriately ask for safety training. You can help your son understand the importance of safety at work by using real-life examples.
If you'd like more advice and tips, read X-Treme Safety: A Survival Guide for New and Young Workersat http://alis.alberta.ca/pdf/cshop/xtremesafety.pdf.
You can also encourage your son to check out the http://bloodylucky.ca web site that features short videos based on actual workplace incidents involving young workers.
If you need help with a concern involving the health and safety of your son's workplace, call the Occupational Health and Safety contact centre toll-free at 1-866-415-8690 (780-415-8690 in Edmonton).
Do you have a work-related question? Send your questions to Working Wise, at charles.strachey@gov.ab.ca. Charles Strachey is a manager with Alberta Human Services. This column is provided for general information