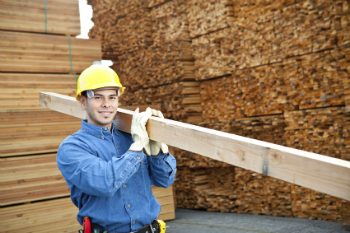 Dear Working Wise:
My son just started his first full-time job with a construction supplies company and I am a little worried about his safety. Wood and other heavy items are piled high, he's expected to use a power saw, and there are fork lifts and trucks driving around the yard all the time. He's an adult now, but how can I help him stay safe at work? Signed, Worried Mom
Dear Worried Mom:
Safety is everyone's responsibility.
Your son's employer is responsible for making the workplace as safe as possible and your son is responsible for working safely.
Under Occupational Health & Safety legislation, workers must:
- Take reasonable care to keep themselves and co-workers safe;
- Wear personal protective equipment required by their employer;
- Take and follow health and safety training provided by their employer;
- Ask for training if they do not feel confident or safe;
- Follow health and safety work procedures developed by their employer;
- Refuse work that may put them or another worker in "imminent danger";
- Report unsafe or malfunctioning equipment to the employer immediately;
- Avoid tasks they are not competent to do unless they are being supervised.
Workers can report dangerous situations by calling the Workplace Health and Safety Contact Centre toll-free at 1-866-415-8690 or 780-415-8690 in Edmonton.
The good news is that fewer Albertans are getting hurt on the job. The provincial lost-time injury claim rate of 1.41 in 2010 was the lowest it has been in 20 years.
But, one injury is too many.
You can help your son stay safe at work by encouraging him to ask his supervisor about the hazards of his job and how to avoid injuries.
You can ensure he understands his responsibilities to work safely and what he should expect his employer to be doing to keep the workplace safe for everyone.
You can encourage him to check out the New and Young Worker safety tips at: www.employment.alberta.ca/ohs-youngworkers.
And, you can check out his employer's safety record. Alberta Human Services has posted the safety records of more than 150,000 Alberta employers insured by the Workers' Compensation Board.
The database allows you to search by employer name, industry, and city or town.
Records include the number of lost-time claims and the lost-time claim rate by employer and by industry so you can compare the employer's record to the industry average.
Also included in the records is the number of fatalities and if the employer holds a health and safety Certificate of Recognition.
A number of improvements were made to this year's update, including more detailed information about fatalities and a video to help users conduct searches. Check it out at: www.employment.alberta.ca/employerrecords.
Good luck!
Do you have a work-related question? Send your questions to Working Wise, at charles.strachey@gov.ab.ca. Charles Strachey is a regional manager with Alberta Employment and Immigration. This column is provided for general information.