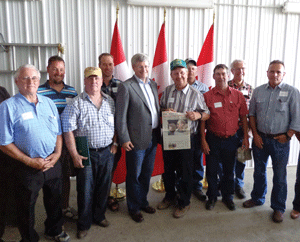 MLA Rick Strankman has received a pardon for actions he took in protest of the Canadian Wheat Board (CWB).
Strankman was jailed in 2002 after being charged under the Customs Act. He had taken 756 bushels of wheat across the border. He and other farmers who defied the government received a pardon from Prime Minister Stephen Harper on August 1. On this day the Marketing Freedom for Grain Farmers Act came into force allowing producers to sell their grain through the CWB or on the open market.
Strankman said his charge was a summary conviction, and it never caused him any trouble save for identification requirements when he would travel internationally. The whole ordeal however had him having second thoughts about Canada.
"I have been able to travel to Brazil where there is a visa requirement, in fact I did that within six months of getting out of jail."
"It's only now that I understand we are on the right track and the Prime Minister and the country is in agreement with our disapproval of the law… and seeing democratic processes in action that I have been able to sing O Canada with some sort of fervor. The reason that I had gone to Brazil was I was p.o.'ed with this country," he said.
At the time he said the situation was "Third World Stuff" where people could not own, manage and sell their own property as they see fit. This made him consider the move to Brazil.
"I was exploring it… our farm has lost thousands of dollars recently because of the ineptness of the Wheat Board," he said.
Strankman was with the other famers who were charged in the riding of Agriculture Minister Gary Ritz in Saskatchewan at the farm of Art Walde to celebrate what they have dubbed Marketing Freedom Day last Wednesday. Among the attendees were Wild Rose leader Danielle Smith and Prime Minster Harper.
"Welcome to Grain Marketing Freedom Day," said Harper. "They said it couldn't be done, but we did it. Together, we have delivered marketing freedom for Western Canadian farmers. Never, never, never again will Western farmers – and only Western farmers – growing their own wheat on their own land be told how they can, and can't market their products. As everyone here knows, we have worked hard for many years, through many elections, with the overwhelming support of Western farmers to right this wrong and to see this day come to pass."
For Strankman he said it was a great day.
"We had a chance many times to shake the Prime Minister's hand, have our pictures taken," said Strankman.