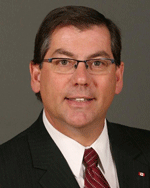 Kevin Sorenson, MP for Crowfoot says while his government has no intention of reopening a debate on abortion, it didn't stop him from sending out a survey on a controversial private members bill many believe does just that.
Conservative MP Stephen Woodsworth introduced Motion 312, which asks parliament to form a special committee to study the Canadian definition of a human being. According to 223(1) of the criminal code in defining homicide, "A child becomes a human being within the meaning of this Act when it has completely proceeded, in a living state, from the body of its mother."
Sorenson sent a survey out to his constituents asking whether they support the motion.
"As your Member of Parliament I have always listened to the voters in our Crowfoot Riding. In Ottawa this fall, I will cast our vote on the floor of the House of Commons either in support of Motion 312 or against it," states the survey.
The question is simply "Do you support Motion 312 that asks Parliament to form a committee to determine if we should change the definition of a human being?"
"What I wanted to do is not sell one side or the other, but really try to get a sense of where our constituents are on this issue," Sorenson told The Mail.
"Our government has no intention of opening an abortion issue, but private members have a right to bring forward anything the government may not. (Woodsworth) has come with this idea, and it is one thing to talk about my position on all these issues but I want to get a sense of where my constituents are on this."
When asked whether the survey could be hijacked by special interests simply by picking the survey out of the trash can or by photocopying the flyer, he said they are tracking who sends the survey and where from. Each survey has a space where respondents can voluntarily sign their name.
"We are trying to watch that. The majority are providing their names, not all with their addresses," said Sorenson.
He said last week one day he received 800 responses, and another day he received 400 responses. While some may say this question reopens a debate, Sorenson said it is not the action of the government, but a private member and he said he expects the government will allow its members a free vote on the issue.
"If we have a policy in our conservative manual, I am sticking with my policy. Our policy on these types of issues is that they are free votes. We have said as a government we are not bringing it up, but when somebody else does, it is not going to be the Prime Minister telling caucus 'you vote for this or against it.' It's going to be our policy that says free votes. I don't put my finger in the wind on every issue finding out where public opinion is going, but on certain issues I do," he said.
He said other MPs in his party have also surveyed their constituents.
"I don't want to open up the issue either, but it's coming," he said.