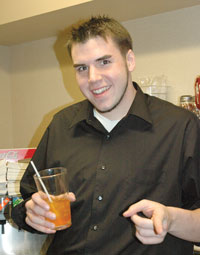 Age:
18

Employer:
O'Shea's Eatery and Ale House
Job title:
Waiter
Hobbies and interests?
I coach basketball, play basketball, and go out with friends
Dreams or goals?
Leave Drumheller and become a city firefighter
Favourite food?
Rice and meat balls
Favourite movie?
Walk the Line
Favourite music?
Oldies like Creedance Clearwater Revival, the Rolling Stones, the Beatles.
Favourite book?
I read cereal boxes
Favourite sports team?
Chicago Bears
Favourite funny childhood memory?
At Disneyland, when my dad made fun of me until I cried for not going on the Jurassic Park ride
Where do you want to travel in the world?
Australia, to learn how to surf
If you could have dinner with anyone, dead or alive, who?
Abe Lincoln, to hear about the fight for slave's rights
Dream car?
Black Jaguar XJ220
If you had a time machine, where and when would you go?
The year 3000 to see what's happening
What would you be doing, if you weren't doing what you're doing?
Be a multi-millionaire and own the Toronto Raptors
Who's your hero?
Batman, he is one bad dude
Words to live by?
Live life to the fullest