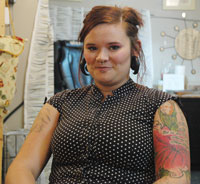 Age:
24
Employer:
LoBrow Boutique, a body piercing studio opening May 1 at Annick's Spa
Title:
Piercer, co-owner
Hobbies and interests?
Bowling and softball
Dreams or goals?
Move to France, because it's beautiful, has a rich culture, and the "louver"
What are you reading?
DMT the Spirit Molecule
Favourite movie?
Zeitgeist
Favourite food?
Any kind of pizza, I'm like a child that way
What's your sign?
Aquarius
Dream car?
A peach 1957 Chevy Bel air
Where in the world would you travel?
Angkar Watt in Indonesia, it's  a site astronomically aligned with constellation Draco
Where and when would you go in a time machine?
To the 1920's to join a circus sideshow
If you could have dinner with anyone dead or alive, who?
Buddha, it would be the most peaceful dinner ever
What would you serve Buddha?
A bowl of rice, he wouldn't want or ask for anything more
If you were on a desert island, and could only bring one thing, what would it be?
A package of seeds to grow food with.
Words to live by?
Be yourself
What would you be doing, if you weren't doing what you're doing?
Spending all of my time travelling around the world
Favourite quote? Strong hearts soar through blindness, tearing through the fog, tearing the eyes, to clarify, to a place where truth is seen - Steve Von Till